This is an archived article and the information in the article may be outdated. Please look at the time stamp on the story to see when it was last updated.
AURORA, Colo. — Child abuse charges have been filed after a December FOX31 Problem Solvers investigation into the deaths of two infant brothers who died under identical circumstances two years apart.
Tierra Collins, 28, and Gregory Tyler Newton, 27, have been booked with two counts of misdemeanor child abuse.
The parents were under investigation in December for the July 2014 death of 7-month-old Azian Newton and the June death 3-month-old Nazairean Newton.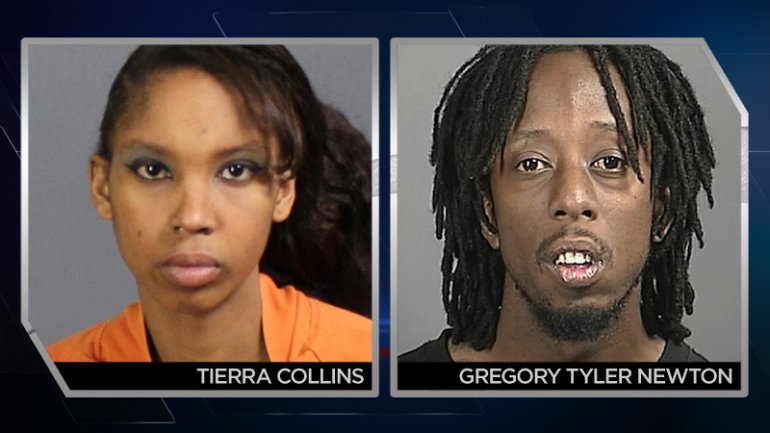 Aurora police reports revealed both babies "died while sleeping in bed with the parents" and both parents "appear to be intoxicated or under the influence" at the time each baby died.
Despite obvious indications of alcohol and marijuana use, neither parent was charged after their first son died.
The Aurora Police Department gave the parents a closer look when the couple's second baby died under similar circumstances two years later.
Investigators believe both infants died from suffocation after co-sleeping with their parents in the same bed.
The autopsy report for each child listed the cause of death as undetermined, but Arapahoe County Coroner Dr. Kelly Lear-Kaul said that's because suffocation leaves no trace.
"Asphyxial deaths don`t leave any marks in most cases so there's nothing for me to see at autopsy," Lear-Kaul said. "I believe that's the most likely cause. I can't prove that."
Despite her opinion the babies likely suffocated while sleeping with their parents, Lear-Kaul felt compelled to list "undetermined" as the cause of death.  As a result, prosecutors felt they couldn't charge the parents with felony child abuse resulting in death.
Collins had no comment Tuesday morning at a court hearing, but she was more forthcoming in December after she was arrested for a DUI.
"I love my kids and I was doing the best that I thought I could do for my kids. I did not do anything criminally wrong," said Collins.
Her boyfriend, Newton, had a similar reaction at the same court hearing.
"I didn't blame myself. It's an unfortunate act. You know we … we're young, but no, I never blamed myself," said Newton.
But the arrest affidavit states Collins was warned not to co-sleep with her babies after the birth of her second son.
"Tierra disregarded the advice given to her by Nurse Julia because Tierra said she was comfortable co-sleeping with Nazairean," a detective wrote. "Tierra said she is a light sleeper, however, in Tyler's interview he said Tierra was a 'heavy sleeper.'"
If convicted, Collins and Newton could face three to 12 months in jail for each count of misdemeanor child abuse.