This is an archived article and the information in the article may be outdated. Please look at the time stamp on the story to see when it was last updated.
LOVELAND, Colo. -- A suspect armed with a knife who had grabbed a customer was shot and killed by an officer inside a pizza restaurant Monday night, the Loveland Police Department said.
The Larimer County Coroner Tuesday identified the suspect who was killed as William Rippley, 45, of Loveland. He died of a gunshot wound to the stomach.
Investigators said Tuesday Officer Jennifer Hines, a 10-year-veteran with the Loveland Police Department, shot the suspect. She's a decorated officer with the department. Officers Greg Harris and Jay Smith were in close proximity to the shooting. All three were placed on administrative leave which is normal protocol during the investigation of an officer involved shooting.
The incident began when an off-duty Loveland police officer saw Rippley throwing a bicycle at westbound traffic in the 3400 block of East Eisenhower Boulevard.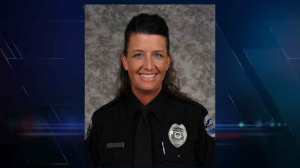 On-duty officers responded and the suspect ran from them into the kitchen of the Pizza Ranch restaurant at 3451 Mountain Lion Drive.
As officers tried to evacuate the customers and staff in the restaurant, police said Rippley grabbed a customer. Ofc. Hines then shot the suspect.
Rippley was taken to a local hospital where he was pronounced dead.
The customer grabbed by the suspect was not injured. No officers were hurt in the incident.
[protected-iframe id="98cf8a1878e976345771ec60ddfc2ce4-29290497-62452405" info="https://www.google.com/maps/embed?pb=!1m18!1m12!1m3!1d24039.498415805963!2d-105.02698465101338!3d40.409840424755096!2m3!1f0!2f0!3f0!3m2!1i1024!2i768!4f13.1!3m3!1m2!1s0x876eacd24c0b5cdd%3A0x8ab19187677f6005!2sPizza+Ranch!5e0!3m2!1sen!2sus!4v1441105379509" width="100%" height="450" frameborder="0" style="border:0" allowfullscreen=""]