This is an archived article and the information in the article may be outdated. Please look at the time stamp on the story to see when it was last updated.
AURORA, Colo. — A laundry list of issues with the Cherry Creek Nursing Center has been uncovered by the FOX31 Problem Solvers.
In October, it was revealed the nursing home never reported its employee Benjamin Offei to the Colorado State Nursing Board when he was arrested for raping a co-worker in his office.
Offei's nursing license was suspended one day after the board was notified. State law mandates his employer report a medical worker to the board anytime they are disciplined in lieu of termination, and Offei was suspended and later terminated as a result of his arrest.
RELATED: Benjamin Offei summary of suspension
But since Offei's conviction, the Problem Solvers have learned he's not the only former nurse who should have been reported to the State Nursing Board.
Alex Martinez, 34, originally was arrested for four counts of child sex assault in summer 2015 after having sex with the 13-year-old daughter of a co-worker. The girl was volunteering at the Cherry Creek Nursing Center.
Even after Martinez pleaded down to a felony count of child sexual exploitation of a child in September, he still wasn't reported to the state nursing board.
And when he was sentenced in late October, the Cherry Creek Nursing Center still ignored state law and failed to report him to the board.
It wasn't until the Department of Regulatory Agencies was emailed on Nov. 4 that the nursing board suspended Martinez' license on Nov. 7.
RELATED: Alex Martinez summary of suspension
The mother of the 13-year old victim agreed to speak if her identity was protected because her daughter was the victim of a sex crime.
She's furious with her former employer, saying she repeatedly asked if it was going to report Martinez to the state but said she was told, "They didn't need to do that because (the victim) was just a volunteer."
Nursing homes only have to report "patient abuse" to Colorado's Department of Health and Environment when it involves an employee but not volunteers.
Once an employer suspends an employee for alleged criminal conduct, it is supposed to report those employees to the State Nursing Board, which can act to suspend nursing licenses.
Because the Cherry Creek Nursing Center failed to report Martinez, he was allowed to keep working as a nurse at his other job at the Aspen Care Center in Aurora for months after he had been arrested.
Management at Aspen Care said it had no knowledge of Martinez's arrest and would have terminated him immediately if it had known he had been arrested for a sex crime at a different nursing facility.
"They're on the clock, so they're being paid and they are sexually assaulting people and they don't get reported?  It's disgusting," the mother of the 13-year old victim said.
Cherry Creek Nursing Center reported two women in 2013 when it learned the former nurses where about to file a wrongful termination lawsuit.
The women's lawsuit, which was later settled for an undisclosed amount, notes the state nursing board dismissed both complaints from the Cherry Creek Nursing Center as "being without merit."
Denver attorney Brent Moss has filed a separate lawsuit against Cherry Creek Nursing Center for what he calls the wrongful death of patient Helen Colbert.
"She lost 14 pounds in the last six months of her stay," Moss said.
He said Colbert suffered from dehydration and untreated pressure sores.
"It's not that they weren't providing adequate care," he said. "They weren't providing basic care to meet her needs."
When it comes to patient needs, the federal government ranks all nursing homes that receive Medicare funding.  On a five-star scale, Cherry Creek Nursing Center currently has a one-star ranking.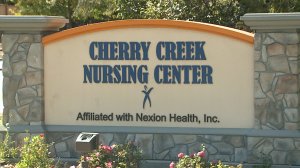 "I don't know what more can be done besides taking away their license," said State Rep. Susan Lontine, a Denver Democrat.
Lontine is working with the nursing board to see if it can be given the authority to fine nursing homes that don't comply with state reporting requirements.
In the  meantime Lontine plans to  introduce legislation so medical boards don't have to rely on bad workers or their employers to self-report.
Lontine's measure would force health care workers to undergo background checks before they're hired and submit fingerprints so if they're ever arrested, the Colorado Bureau of Investigations could tip off medical boards.
"If you knew a nursing home facility had bad employees there, would you want to put your loved one in a facility that has employees that might harm them? I wouldn't," Lontine said.
Offei is serving a one-year work release sentence, but Nexion-Health, which operates Cherry Creek Nursing Center, fired the women Offei is accused of raping. She's planning to sue the facility.
Martinez is in jail and his 13-year old victim moved out of state.  Her mother no disgust for the nursing home that once employed her.
"They don't have a heart. They're in it for the money and every bad thing that they can cover up and hide from, they will," she said.
Maryland-based Nexion-Health maintains it didn't have to report either rape to the nursing board because the victims were not patients.
But the Colorado Department of Regulatory Agencies strongly disagrees and said anytime a nurse commits a crime, including sex assault, it is supposed to be reported.