This is an archived article and the information in the article may be outdated. Please look at the time stamp on the story to see when it was last updated.
By: Greg Ellison
Denver, CO – Visitors to the Denver Zoo have a new sight to behold. On June 13 the zoo was blessed with the birth of an endangered zebra. The yet to be named foal can be seen with her mother Topaz and the entire zebra herd.
Topaz has proven to be an excellent mother. The newborn foal, with her mother always nearby, is beginning to explore her surroundings. Visitors should delight in watching Topaz carefully shepherd her baby around the yard.
Topaz and her still unnamed offspring are Grevy's (Greh-veez) zebras. Association of Zoos and Aquariums (AZA) Species Survival Plan (SSP) recommended pairing Topaz with a male zebra, Punda. The pair has thus far produced three offspring.
Grevy's zebras, the largest of all zebras, are identified by their longer legs, large rounded ears, narrower stripes, and pure white underbellies. With a wild population estimated at fewer than 2,000 creatures, the Grevy zebra is classified as "endangered" by the International Union for Conservation of Nature (IUCN).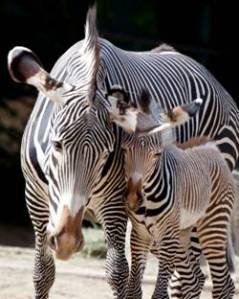 The three types of zebra species include; plains or common zebra, mountain zebra and Grevy's zebra. Grevy's are named after a late 19th century French president. In 1882 the first specimen of the later named Grevy zebra was sent to then French President Jules Grevy.