This is an archived article and the information in the article may be outdated. Please look at the time stamp on the story to see when it was last updated.
LARIMER COUNTY, Colo. – The Larimer County Sheriff's Office announced Tuesday that the number of homes destroyed in the High Park Fire has increased to 257. Authorities expect that number to go up.
Incident commander Beth Lund said at a morning news briefing the state's most destructive wildfire in history grew to 87,250 acres.
Governor John Hickenlooper visited the High Park Fire command center Tuesday and said crews are making good progress on the wildfire.
Containment of the fire was at 55 percent Tuesday as 1,947 fire crew members continue to battle the two-week-old blaze west of Fort Collins. It's the second largest fire in Colorado history.
Lund says there will be a demobilizing of crews as they reach their limit of two weeks on the fire lines. She says there are plenty of resources to continues making progress on the fire.
The 57 newest homes that were lost all came from the Glacier View subdivision. That runs the total count of structures lost in the fire to 248.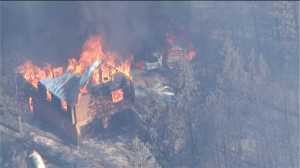 The fire's estimated containment date is July 30, but fire managers stress that any such date issued has to be considered fluid.
Updated High Park Fire perimeter map
Official High Park Fire Updates from InciWeb
Residents who live in areas where property damage has been confirmed can call 970-619-4086 to find out the status of their home. This phone line will be staffed from 8:00 a.m. from 5:00 p.m. until further notice and messages can be left.
Public information is available at the Larimer County Emergency Information line at 970-498-5500 where information officers are answering the phone, and at www.larimer.org or on Twitter @larimersheriff.
Residents are reminded to receive emergency notifications on cell phones or email and should visit the website at www.leta911.org.
Evacuation and recovery centers are currently set up on the Colorado State University Campus at Johnson Hall and at Cache la Poudre Middle School.
High Park Fire Pet Assistance from the Larimer Humane Society
Live Colorado Wildfire Blog: Your Questions Answered
Live blog mobile view – click here