This is an archived article and the information in the article may be outdated. Please look at the time stamp on the story to see when it was last updated.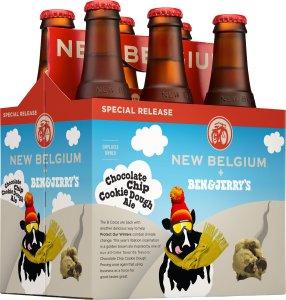 FORT COLLINS, Colo. — Beer that tastes like chocolate chip cookie dough ice cream? Yes, please.
New Belgium Brewing has partnered with Ben & Jerry's to release another ice cream-inspired ale.
The Chocolate Chip Cookie Dough Ale will hit shelves this fall, with $50,000 in proceeds benefiting Protect Our Winters, a nonprofit dedicated to raising awareness around climate change, New Belgium said in a news release.
"We are excited to be partnering once again with the good folks at Ben & Jerry's and POW," said New Belgium director of sustainability Jenn Vervier. "The beer in development tastes amazing and we look forward to talking about climate change and climate action. With the upcoming election and a new administration, year two is even more important than the first round."
Last year, the Fort Collins-based craft brewer teamed with Ben & Jerry's to release the special Salted Caramel Brownie Brown Ale, with proceeds also benefiting POW.