This is an archived article and the information in the article may be outdated. Please look at the time stamp on the story to see when it was last updated.
BROOKSVILLE, Fla. — After being the youngest U.S. children to be charged as adults for first-degree murder, the Jones siblings are nearing the end of their prison sentence.
Catherine, 13, and Curits, 12 plotted to kill their abusing family member, their father and his girlfriend in 1999.
After shooting their father's girlfriend and killing her, they ran to a neighbor's house and said it was accident.
Now 29 years old, Catherine has spent a majority of her life in jail.
Her story went untold until 2009 when she spoke to a Florida Today reporter and recalled everything.
After this interview, Florida Today learned her story:
From the beginning, Catherine's natural mother, who is a Caucasian, left her children and home behind after years of domestic abuse. Their father wouldn't allow the children to leave and the mother's family didn't want them because they were half-black, Catherine said.
However, their father may not have been a model citizen either.
He was charged with second-degree murder in 1989, but it was later reduced to misdemeanor as justified homicide in self-defense, Catherine was four at this time.
Years later,  further investigation proved that the abusing family member was convicted of sexual assault in 1993.  Another investigation surfaced when Curtis, the younger brother of Catherine, appeared at a police station with a bruised and swollen eye in 1996.  Each time, officials did nothing about the problems, according to Florida Today reports.
All the while, the family member was still living with them. The Jones siblings said they were both forced to perform sexual acts, and also said they didn't know about each other's abuses for a prolonged period of time.
Only four months before Catherine and Curtis killed their father's girlfriend, an investigator from child welfare discovered evidence of sexual abuse from the family member.
But by that time it was too late, the Jones siblings had already hatched a murder plot. They had planned together to kill their abuser, father and his girlfriend, who they believe allowed the abuse to continue.
Catherine and Curtis were originally charged with first-degree murder. They pleaded guilty to second-degree murder resulting in a 18-year prison sentences with a lifetime of probation.
Catherine told Florida Today that she regretted taking a life, but she was willing to do anything to get away from the hell she was born into. Even prison seemed better.
"At one point I was just so happy to be away," she said while in prison. "I know that sounds, like, really messed up, but there was a point where I was just away from all that and I was by myself and I was safe."
Things began to change for Catherine after Florida Today reported on her story.
After the report came out in 2009, the news story caught the eye of the US Navy's Senior Chief Ramous K. Fleming.  At the time, he was aboard an aircraft carrier, the U.S.S. Enterprise in the Persian Gulf.
Touched by her story, Fleming wanted to reach out, Florida Today reported.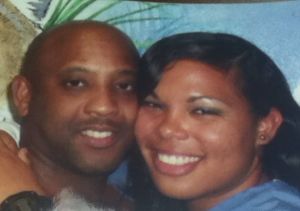 "I wrote a letter and she responded," Fleming said this week from Norfolk, Virgina, where he is currently stationed in the Navy. "I had never done anything like that before. Her story just piqued my interest and I wanted to be pen pals.
"We continued writing and through that we fell in love. It never crossed my mind that would happen."
They later agreed to meet with her, which Fleming said he did not find strange at all.
On Nov. 27, 2013, in the chapel at the Hernando Correctional Institution, where Catherine was sentenced, the couple got married.
She wrote a letter to Florida Today explaining her feelings about the idea of being release into a foreign society later this year:
"Of course there are fears, mainly because there's so much I must learn to function like a normal person: how to drive, fill out job applications, text, dress for a job interview, build my credit, obtain life, dental, medical insurance. I'm completely clueless. The idea of being 30 and completely dependent on others to teach me how to do these basic things isn't appealing. I'll leave prison just as clueless as I was at 13."
Fleming knows that his life ahead carries a lot of baggage, but he is choosing to retire from the Navy in order to spend time with Catherine.
"I don't want to leave her alone," he told Florida Today.
In July 2015, Catherine Jones is expected to be released from prison.  Her brother Curtis Jones is expected to be released in May 2017 because of his escape.
Further details as well as a timeline outlining the case can be found in the Florida Today story. The original video report by Florida Today in 2009 is also available.
CORRECTION: An earlier version of this story indicated Catherine and Curtis Jones murdered their father. That is incorrect, and the story has been updated accordingly. Our sincere apologies for the error.