This is an archived article and the information in the article may be outdated. Please look at the time stamp on the story to see when it was last updated.
SACRAMENTO, Calif. -- A 26-year-old father from Northern California died after a tooth infection spread to his lungs, the man's wife told KTXL on Monday night.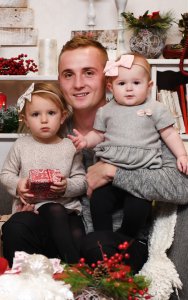 Vadim Kondratyuk Anatoliyevich, a truck driver, complained of a toothache when he left Truckee, Calif., for New York two weeks ago, the Sacramento television station reported.
During the trip, Kondratyuk Anatoliyevich stopped in Oklahoma to visit a dentist, who cleaned the infected tooth and prescribed antibiotics, according to his widow, Nataliya.
His condition improved, but she told KTXL the infection worsened and his mouth swelled up.
Eventually, Kondratyuk Anatoliyevich became too weak to drive, so his brother drove to New York bring him home. They made it to Utah before checking into a hospital.
Four days later, Nataliya Anatoliyevich said she received news from a doctor about her husband's condition.
"The doctor said, 'Tonight is the night he's going to die because we did everything we can and nothing seems to work.' It's just the bacteria and the infection keeps growing to his lungs and they can't clean it out," she told the station.
Nataliya made it to the hospital and was with her husband when died Monday morning, according to a GoFundMe page set up for the family.
She said her husband had diabetes but was otherwise healthy. The couple had been together for four years and had two young daughters.
"I don't think you could find a better husband. I thank everybody for his prayers, for his brother, for his friend that dropped me off over there," she said. "I know he's in heaven. He's a happy person right now. He's going to be my angel for the rest of my life and he's going to help me through this whole time without a dad and without a husband."
The GoFundMe page was set up to help pay the costs of transporting Kondratyuk Anatoliyevich's body back to California, the funeral and to help the family financially. As of Tuesday morning, it had raised more than $90,000.