This is an archived article and the information in the article may be outdated. Please look at the time stamp on the story to see when it was last updated.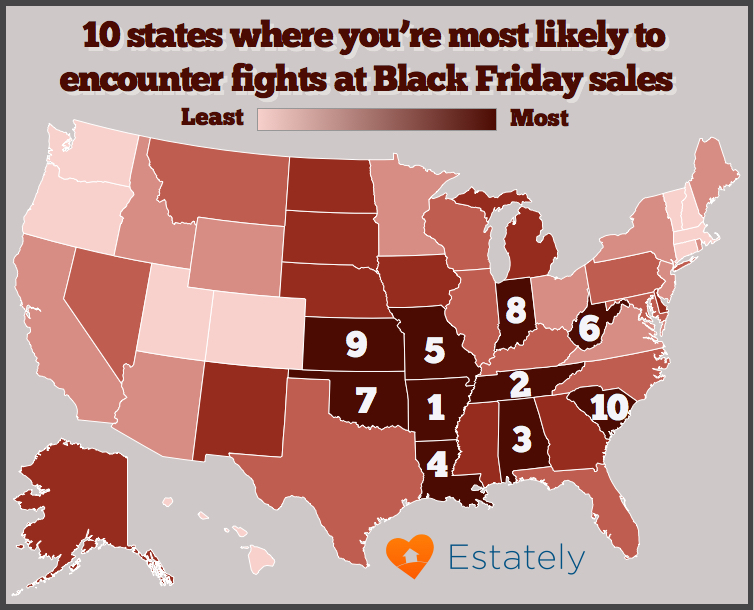 DENVER — It's that time of year to decide if you are going to brave the crowds on Black Friday to save some cash.
Estately, a national real estate search site, studied all 50 states to determine where shoppers are mostly to encounter a fight during a Black Friday sales event.
The top five states where a fight is likely to break out were Arkansas, Tennessee, Alabama, Louisiana and Missouri.
Tennessee had the highest rate of aggravated assaults, numbering 453.2 incidents per 100,000 people. Maine had the fewest, with 66.9 incidents per 100,000 people.
The five states Estately determined were least likely to see a Black Friday sales fight were Massachusetts, Hawaii, New Jersey, Oregon and Vermont.
The study used two sets of data and averaged the results. They included the percentage of Facebook users who express interest in "Black Friday sales" and the frequency of aggravated assaults according to the FBI Uniform Crime Report.
Colorado was in the bottom quarter of the fight list, ranking No. 41.
The Estately data found Colorado ranked 28th in frequency of aggravated assaults and 47th in demonstrating enthusiasm for Black Friday sales.