This is an archived article and the information in the article may be outdated. Please look at the time stamp on the story to see when it was last updated.
NEW YORK, NY – Skip Hop has issued a voluntary recall for around 130,000 Moonlight & Melodies nightlight soothers because the USB power adapter can break which poses a shock hazard.
"After recently receiving feedback from a small number of parents, we discovered the UL-certified USB wall adapter to the owl and elephant models of our Moonlight & Melodies Nightlight Soothers could pose a potential safety risk if part of the adapter fragments when unplugged from the wall," the company stated in a recall notice.
The recalled owl and elephant nightlight soothers were sold between July 2016 and August 2017.
The company said the product recall only includes models with a USB wall adapter, not a one-piece cord adapter.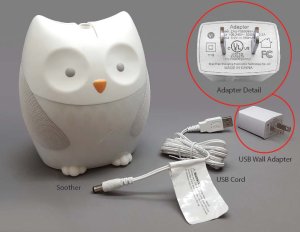 Contact Skip Hop for a free USB wall adapter replacement.