This is an archived article and the information in the article may be outdated. Please look at the time stamp on the story to see when it was last updated.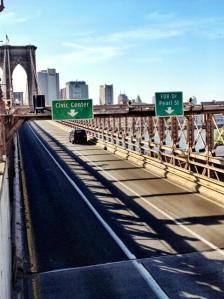 (CNN) — The New York Police Department gave an "all clear" Monday after an unattended, suspicious vehicle prompted authorities to shut the Brooklyn Bridge.
The vehicle was found in the right lane of the Manhattan-bound side of the bridge, mid-span, a police spokesman said.
Traffic was diverted, as video from CNN affiliate WABC showed police vehicles blocking access.
Video also showed someone in a protective body suit combing through the vehicle. Afterward, an officer wearing no protective gear walked right up to it with a dog.
The SUV had no plates, nor did it have a vehicle identification number, according to Christopher Miller, a spokesman with the New York City Office of Emergency Management.