This is an archived article and the information in the article may be outdated. Please look at the time stamp on the story to see when it was last updated.
FORT LAUDERDALE, Fla. –CNN has confirmed the names of two victims in Friday's deadly shooting at the Fort Lauderdale-Hollywood International Airport.
Olga Woltering, a grandmother from Marietta, Georgia, who was in Fort Lauderdale with her husband to go on a cruise; and Terry Andres of Virginia Beach, Virginia, who was on vacation with his wife to celebrate his 63rd birthday, were among six people who died when a gunman opened fire in a baggage claim area of the airport.
Six people were shot dead and eight wounded in the attack. Law enforcement sources tell CNN the suspect, identified as Esteban Santiago, had brought the firearm in his checked luggage.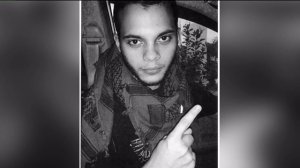 Authorities said it was too early to understand why the suspect, who was taken into custody without incident, opened fire at the Florida airport. Santiago "came here specifically to carry out this horrific attack," Miami FBI Special Agent George Piro said Saturday. "We have not identified any triggers that would have caused this attack," he said.
Santiago, who lived in Alaska, is being held by federal authorities and could appear in court for the first time on Monday, George Piro, the special agent in charge of the FBI's Miami office, said.
Here's the latest on what we know:
• Thirteen people were shot and eight were taken to hospitals, Broward County Sheriff Scott Israel said. Five people died from their wounds.
• Broward Health Medical Center officials told reporters five trauma patients were being treated. The patients were in stable condition; two victims underwent surgery Friday afternoon. The officials didn't discuss the extent of the victim's injuries.
• The suspect joined the National Guard in Puerto Rico in 2007. In April 2010, he went to Iraq for 10 months. A spokeswoman for the Alaska Army National Guard said Santiago was in the Army Reserves before he joined the guard there in November 2014. Lt. Col. Candis Olmstead said Santiago was discharged in August for unsatisfactory performance.
• One of Santiago's military awards was a combat action badge.
• The suspect showed up several months ago at the FBI office in Anchorage, law enforcement officials told CNN. He was interviewed and said he was hearing voices in his head, including some telling him to join ISIS. He was taken to a hospital for a mental health evaluation, the officials said. He voluntarily checked himself in, the officials explained.
• A senior federal law enforcement official told CNN the visit came in November and Santiago reported his mind was being controlled by a US intelligence agency. Santiago said he didn't want to harm anyone but was erratic and made disjointed statements. The FBI interviewed family members and checked with other agencies and in databases before closing its investigation. Some friends of Santiago accompanied him to the FBI office, law enforcement sources said.
• Santiago worked for a security company in Anchorage, a law enforcement source said. CNN called the company and the owner said he was working with law enforcement.
• Law enforcement sources told CNN that the suspect had declared the firearm. When he arrived at Fort Lauderdale, the suspect retrieved a bag at baggage claim, took out the gun and started firing, the sources said. One source said he went to the bathroom to get the gun out of his luggage and emerged firing.
• Santiago flew from Anchorage to Minneapolis and then to Fort Lauderdale-Hollywood International Airport on Delta, a law enforcement and aviation security source told CNN.
• Israel said the gunman likely acted alone. The sheriff said it was too early to say whether terrorism was the motive.
• Some passengers were stuck on arriving planes for more than six hours before they were allowed off Friday night.
• Gov. Rick Scott told reporters: "The citizens of Florida will not tolerate senseless acts of evil. Whoever is responsible will held accountable to the fullest extent of the law." The governor said that now was time to mourn the dead and pray for hospitalized victims, not talk about gun laws.
• Gene Messina told CNN he'd arrived at the airport as people were being evacuated from the terminal. "I got off the plane and I saw people running and screaming," he said. "At first I was in shock but when I saw TSA agents running, I booked."
• The incident occurred in the baggage claim area of Terminal 2, officials said. There are four terminals at the airport, which ranks 21st in the US in terms of total passengers.
• Parts of the airport were evacuated. Aerial footage from CNN affiliates showed large groups of people standing outside on the tarmac.
• More than an hour after the shooting, tensions were still running high, a witness told CNN. "Everyone sprinted outside again. We are back out on the tarmac," Judah Fernandez said, adding that it was unclear why people had rushed outside.
• The first call about the shooting came in at 12:55 p.m. ET.
• Most flights scheduled to land at the airport were diverted, the FAA said. The airport had not resumed operations by 7 p.m ET. Passengers were being allowed to leave in the evening, but no one was allowed inside the terminals.
• In November 2016, nearly 2.5 million travelers passed through Fort Lauderdale's airport, according to a government report on the facility.
• The airport serves about 30 airlines. Many passengers use it because of its convenience to nearby cruise ship terminals.
Former White House Press Secretary Ari Fleischer, who was traveling from the airport, tweeted out following the incident:
I'm at the Ft. Lauderdale Airport. Shots have been fired. Everyone is running.

— Ari Fleischer (@AriFleischer) January 6, 2017
Law enforcement sources tell CNN that the suspect flew to Florida from Alaska, the sources said. When he arrived at the airport, he retrieved his bag at baggage claim, he took out the gun and started firing, the sources said. One source said he went to the bathroom to get the gun out of his luggage and emerged firing.
Investigators have not officially released the name of the suspect. However, multiple senior law enforcement sources identified the suspect as 26-year-old Esteban Santiago and said he had a military ID on him, according to NBC News.
Info from Alaska National Guard on Esteban Santiago, @FLLFlyer shooter. pic.twitter.com/2bKO9fm0R1

— Kristina Webb (@KristinaWebb) January 6, 2017
The Fort Lauderdale-Hollywood airport is located about 25 miles north of Miami. The airport is closed and people headed to Fort Lauderdale are asked to check with their airline regarding flight status.
A United Airlines flight from Denver to Fort Lauderdale was diverted to Fort Myers.
UPDATE: UA1164 from DEN to FLL is being diverted to Fort Myers and UA2044 EWR-FLL is being diverted to Palm Beach.

— United Airlines (@united) January 6, 2017
A total of three flights from Denver to Fort Lauderdale were canceled Friday night.