This is an archived article and the information in the article may be outdated. Please look at the time stamp on the story to see when it was last updated.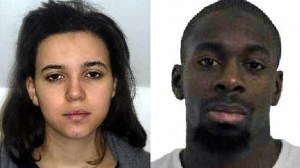 DAMMARTIN-EN-GOELE, France — French police are involved in two fast-developing scenarios Friday. They have apparently cornered the suspects in the deadly attack on the French magazine Charlie Hebdo in a town outside Paris and are responding to an ongoing shooting and hostage-taking situation in the capital's east.
Twelve people were killed in Wednesday's attack on Charlie Hebdo in Paris, which has prompted widespread shock and condemnation.
Separately, a policewoman was killed in a shooting Thursday in the southern Paris suburb of Montrouge.
Authorities are scrambling to respond to the incidents and officials are sharing some of the information with reporters.
Here's a summary of what we know and don't know at this point:
THE LATEST — PARIS
What we know: A shooting and hostage-taking situation is ongoing in Porte de Vincennes, a neighborhood in eastern Paris, the Paris prosecutor said. BFMTV said the incident was in a kosher grocery store.
A person was seen being taken on a stretcher to an ambulance at the scene of the standoff. Columns of police are heading into the area.
Amedy Coulibaly, 32, a suspect in the Montrouge deadly shooting, is believed also to be the suspect in the grocery store standoff, Romain Fabiano, UNSA police union spokesman, said Friday on BFMTV. The suspect is believed to be holding six people inside the store, according to Fabiano.
Coulibaly is one of two people named by Paris police as being suspected of involvement in the Montrouge shooting. Police released the images of Coulibaly and a woman, Hayat Boumeddiene, and said they are believed to be armed and dangerous.
What we don't know: Authorities have not said who is behind the Porte de Vincennes shooting and hostage taking, nor whether the suspects named by police over Thursday's shooting are involved. We don't know if there have been any injuries or how many hostages are being held.
There's also been no official confirmation of a link between the suspects in this incident, the Montrouge shooting and in the Charlie Hebdo attack, but French media reports that Coulibaly knew one of the Kouachi brothers.
THE LATEST — DAMMARTIN-EN-GOELE
What we know: A major police operation is underway in an industrial area of Dammartin-en-Goele, a town about 25 miles northeast of central Paris. Convoys of police vehicles have arrived as well as helicopters, and the town is sealed off and on lockdown.
The suspects in the Charlie Hebdo attack, Said and Cherif Kouachi, are believed to be cornered in a premises there. A hostage situation is reportedly also underway. However, a spokesman for the Interior Ministry said it could not confirm whether or not there were any hostages. It said the priority for law enforcement teams was to make contact with the extremist gunmen. There have been no casualties, no deaths and, at this time, no assault, he said.
French lawmaker Yves Albarello — the local member of parliament for the district where the police operation is taking place Friday — said the suspects have spoken to police by phone and said they wanted to die as martyrs.
What we don't know: It's not clear what's happening in Dammartin-en-Goele or how any hostage situation is playing out. It's also unclear why the suspected attackers chose to enter this town.
THE CHARLIE HEBDO ATTACK
What we know: About 11:30 a.m. (5:30 a.m. ET) Wednesday, a car pulled up outside the Charlie Hebdo office in Paris' 11th district. Two people got out. They were dressed in black, carried what appeared to be automatic weapons and had their faces covered.
The gunmen asked maintenance men where the magazine office was and opened fire, killing one of the workers.
They made their way to the magazine's office on the second floor and headed to the newsroom, opening fire again, killing 10 people this time. The staff of the magazine, which is published each Wednesday, was in a lunchtime editorial meeting when the gunmen burst into the office. Hebdo's editor and a police officer who was in charge of protecting him were among those killed.
The gunmen then left the building and drove off with a third suspect, encountering and exchanging fire with police three times.
A second police officer was shot and killed in the final exchange.
A video from the attack shows two gunmen leaving their vehicle, with one approaching a man who appears to be an officer, lying on the ground and possibly wounded, and opening fire.
The suspects later carjacked another vehicle to continue their getaway.
What we don't know: Investigators are in the early stages of understanding what happened inside the office of Charlie Hebdo. The gunmen asked for specific people by name before killing them, according to a doctor who helped wounded patients and spoke with survivors of the attack.
Dr. Gerald Kierzek said the gunmen divided the men from the women before opening fire. The shooting was not a random spray of bullets, he said, but more of a precision execution.
The attack appeared highly organized, down to a detailed getaway plan. It's not yet clear if the gunmen had help.
"Several detentions" took place overnight in connection with the shootings, French Prime Minister Manuel Valls said Thursday, without specifying how many.
Any possible links between the people detained and the main suspects, who are still at large, weren't disclosed.
THE SUSPECTS
What we know: Authorities have released the names and photographs of two brothers they say they are looking for: Cherif Kouachi and Said Kouachi.
The Prime Minister said Thursday that the suspects were "known to the security services." Both brothers were in the U.S. database of known or suspected international terrorists, known as TIDE, and also had been on the "no-fly" list for years, a U.S. law enforcement official said.
Cherif Kouachi, 32, was convicted in 2008 of being part of a jihadist recruitment ring in Paris that sent fighters to the war in Iraq.
Less is publicly known about Said Kouachi, 34. But BFMTV reported that his ID card was discovered during the investigation into the attack, helping police single out the suspects.
A U.S. official said the United States was given information from an French intelligence agency that Said Kouachi traveled to Yemen as late as 2011 on behalf of the al Qaeda affiliate there.
Once in Yemen, the older brother received a variety of weapons training from al Qaeda in the Arabian Peninsula — the affiliate in Yemen — the official said, including on how to fire weapons.
A French source close to the French security services said that investigators are looking at evidence to suggest the younger brother, Cherif, went to Syria, and that he returned from this trip — of unknown length — to France in August 2014. USA Today reported that they both returned from Syria in the summer.
A third suspect has turned himself in to police, a source close to the case told the news agency Agence France-Presse. Hamyd Mourad, 18, surrendered to police late Wednesday after seeing his name mentioned on social media, the source told AFP.
Some experts warned that how well the gunmen in the attack wielded their weapons, hid their identities and apparently planned their escape showed a marked difference form other "lone wolf" attacks.
Retired Lt. Gen. Mark Hertling, former commander of U.S. Army Europe, wrote that the gunmen appeared well-trained.
They used cover and moved quickly — suggesting a "single-mindedness of mission" — and seemed to be good marksmen, he wrote.
What we don't know: Authorities identified the two men they're hunting, but they've so far been unable to apprehend them.
"They are still free, they are heavily armed, so we can be afraid of further violence," Valls said in a radio interview Thursday.
It's also unclear what role, if any, Mourad might have had in the attack. Reports in French media and on social platforms suggested he was at school in northeastern France at the time of the attack.
THE VICTIMS
What we know: At least 12 people were killed in the attack, including police officers and some of the most revered and controversial cartoonists in France.
Charlie Hebdo editor Stephane "Charb" Charbonnier was among the dead.
At least seven other journalists were killed, including well-known cartoonists Georges Wolinski, who worked under the pen name Wolinski, Jean "Cabu" Cabut, Bernard "Tignous" Verlhac and Philippe Honore, known as Honore.
Also killed was journalist, economist and Charlie Hebdo shareholder Bernard Maris, BFMTV reported.
A maintenance man and two police officers also died, according to authorities.
The two police officers killed were identified as Ahmed Merabet and Franck Brinsolaro.
Eleven people were wounded in the attack, including four in serious condition.
What we don't know: All the victims have been identified, but over time, more stories of these lives cut tragically short by terrorism are likely to emerge.
THE MOTIVE
What we know: During the attack, the gunmen said, "Allahu akbar" — which translates to "God is great" — and that they were avenging the Prophet Mohammed, the prosecutor told reporters.
Charlie Hebdo has a controversial history of depicting Mohammed, often in an unfavorable light, which has angered many Muslims around the world.
Earlier cartoons depicting Mohammed spurred protests and the burning of the magazine's office three years ago.
Its last tweet before Wednesday's attack featured a cartoon of ISIS leader Abu Bakr al-Baghdadi offering festive greetings with the words, "And, above all, health!"
What we don't know: It's unclear at this point whether the suspects had ties to any international terrorist group. No one has claimed responsibility.
The FBI and U.S. intelligence agencies are mapping the suspects' relationships for clues, including digital records. They are running the suspects' names through databases and looking for connections with ISIS and al Qaeda.
Investigators are also trying to establish whether Wednesday's shooting was a one-off attack or part of a coordinated strategy.