This is an archived article and the information in the article may be outdated. Please look at the time stamp on the story to see when it was last updated.
WASHINGTON — Federal scientists announced Monday that the hottest June on record for the planet was recorded last month. It's the third month this year that has been record warm globally, joining March and May.
"The globally averaged temperature over land and ocean surfaces for June 2015 was the highest for the month of June since record-keeping began in 1880," NOAA's National Centers for Environmental Information said in a statement.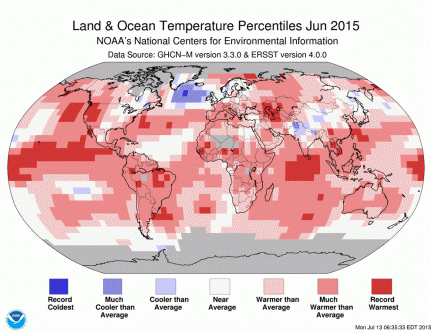 Other global data sets from NASA and the Japan Meteorology Agency also reported on June's record warmth.
In the U.S., it was the second-warmest June on record. Only June 1993 was hotter.
For the first six months this year, it has been 1.53 degrees warmer on average worldwide, NOAA said.