This is an archived article and the information in the article may be outdated. Please look at the time stamp on the story to see when it was last updated.
NEW YORK — A group of ocean researchers might have made one of the most important discoveries so far — a nursery for great white sharks.
Ocearch found, and tagged and released nine young sharks in an area near Long Island in the past few days.
The birthing site is "the holy grail of the research," founding chairman and expedition leader Chris Fischer told CBS, which reported the discovery.
"If you're trying to help the white shark recovery, you've gotta figure out where the babies are and help them succeed," Fischer said.
#ExpeditionNY: Searching for Young of the Year @CostaSunglasses @YETICoolers @Mojoshark @TheWCS @BrookeKanani pic.twitter.com/QEjZCdpR0K

— OCEARCH (@OCEARCH) August 23, 2016
"If the white sharks are being born here, that means it's critical habitat," Fischer said.
Ocearch conducts expeditions to tag "keystone marine species" such as great white sharks and tracks them in real time.
The nine new sharks were tagged during Expedition New York.
Tagging 9 White Shark pups is a tremendous scientific achievement! Data incoming! Thank you @OCEARCH #ExpeditionNY pic.twitter.com/M42e4wqEuh

— Tobey Curtis (@Mojoshark) August 26, 2016
The movements of seven of the young sharks — Paumanok, Hudson, Gotham, Teddy, Gratitude, Hampton and Montauk — can be followed on Twitter.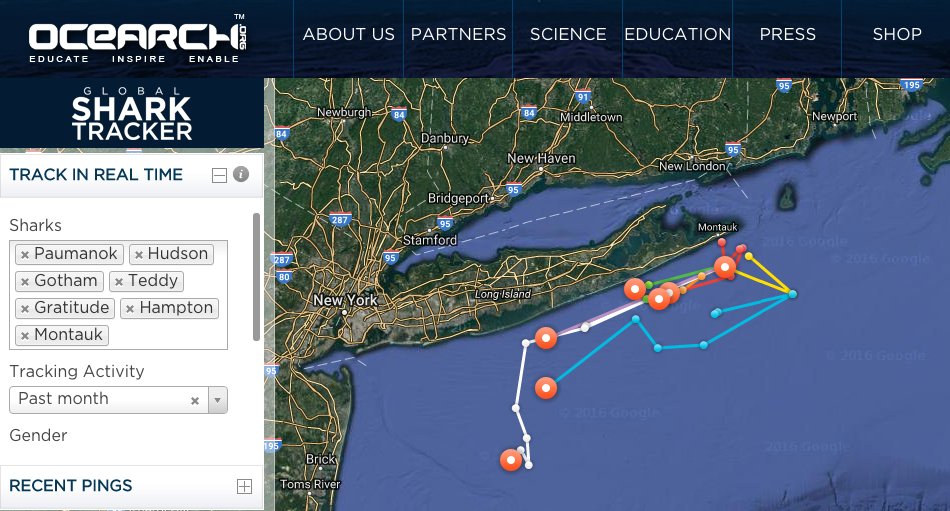 Are you following all the sharks tagged on #ExpeditionNY? @SharkMontauk @Shark_Hudson @HamptonTheShark pic.twitter.com/L4lDQ0mAYE

— OCEARCH (@OCEARCH) August 24, 2016
Fischer said a shark named Mary Lee led them to the nursery. Mary Lee was first tagged in 2012 and has traveled more than 34,000 miles since then. She's 16 feet long and weighs 3,456 pounds.
The shark pups are referred to as "YOY" on Twitter, which stands for "Young of the Year."
Local Baby White Shark Food: Menhaden, Mackerel, Bluefish, Dogfish, Skates, Flounders, Crabs, Coney Island Hot Dogs. pic.twitter.com/Kj0r31KGm5

— Tobey Curtis (@Mojoshark) August 27, 2016
And while they're still young, they're not exactly tiny. Most of the newly tagged sharks are about 5 feet long.
YOY white sharks Teddy and Gratitude ping an hour apart in Long Island! pic.twitter.com/SuHtx9gFT9

— OCEARCH (@OCEARCH) August 26, 2016
Ocearch plans to to DNA testing on the young sharks to see if they are related to any of the other sharks they have tagged.
Keep an eye out on Twitter for future results of DNA testing! #ExpeditionNY https://t.co/FVxZOAX2uz

— OCEARCH (@OCEARCH) August 27, 2016