This is an archived article and the information in the article may be outdated. Please look at the time stamp on the story to see when it was last updated.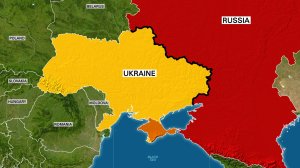 UKRAINE — A Malaysia Airlines passenger jet was shot down in eastern Ukraine on Thursday, US officials confirmed.
A senior U.S. official said one radar system saw a surface-to-air missile system turn on and track an aircraft right before the plane went down.  A second system saw a heat signature at the time the airliner was hit, the official said.
The United States is analyzing the trajectory of the missile to try to learn where the attack came from.
Malaysia Airlines confirmed that it lost contact with Flight 17 and that the plane's last known position was over Ukrainian airspace, the airline said on Twitter.
The plane had 280 passengers and 15 crew members on board, read a Facebook post from Anton Gerashchenko, adviser to the Ukrainian Interior Ministry.
The Boeing 777 was "shot down" over Ukraine by "terrorists" operating a Buk surface-to-air missile system, the post said.
The Obama administration believes Ukraine did not have the capability in the region — let alone the motivation — to shoot down the plane, a U.S. official said.
According to Fox News, 23 Americans were listed on the flight manifest.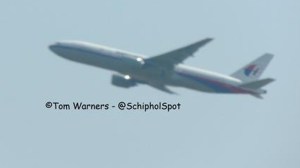 The plane was shot down near the town on Torez in the Donetsk region of eastern Ukraine, according to the post, as it flew at about 10,000 meters (32,000 feet).
"We do not exclude that the plane was shot down and confirm that the Ukraine Armed Forces did not fire at any targets in the sky," Ukrainian President Petro Poroshenko said, according to his website.
Details of the incident are quickly pouring in during the same week that Ukrainian officials said a Russian fighter shot down a Ukrainian military transport plane while the aircraft was in in Ukrainian airspace.
Reacting to the breaking story, Richard Quest, an aviation expert, said that it would "extremely unusual" for an airliner at 32,000 feet to be shot down. From the ground, one could simply look up and tell whether a plane was a commercial aircraft.
"It looks like a commercial aircraft, it squawks a commercial aircraft. So something is absolutely appalling that's gone on here," he said.
FlightRadar24 showed the plane disappearing near Kremenchuk, Ukraine.
This video of the crash was posted on YouTube:
The text that accompanied the videos indicated the plane was shot down, however the cause of the crash has not yet been determined.
A Twitter user by the name of Matevz Novak shared photos he claimed were wreckage from the crash.
Flight #MH-17 #Torez #Donetsk #Ukraine by Nadezhda Chernetskaya pic.twitter.com/nrokR3svTU

— legionar🇸🇮 (@MatevzNovak) July 17, 2014
UPDATED: First photos from Malaysia plane crash in Ukraine http://t.co/gaHw1Wby7J #MH17 #Ukraine #MalaysianAirlines pic.twitter.com/Zi2dv0oUFC

— Reuters Pictures (@reuterspictures) July 17, 2014
Malaysian Prime Minister Najib Razak said that an investigation will be launched immediately. "We must and we will find out precisely what happened to this flight. No stone will be left unturned," he said.
And Ukrainian Prime Minister Arseniy Yatsenyuk ordered that a government commission investigate the crash, a statement from his office said.
Vice President Joe Biden said that Ukraine's president accepted an offer of U.S. experts to investigate the crash, adding "they will be on their way rapidly to see if we can get to the bottom of this."
Russian President Vladimir Putin "expressed deep condolences" to Malaysia's Prime Minister over the crash, a post Thursday on the Kremlin's website said. He "asked to pass the most sincere word of condolences and support to families and relatives of (the crash) victims," the post said.
Near the end of a phone call Thursday morning with President Obama, Putin noted to the President the early reports of a downed passenger jet near the Russia-Ukraine border, White House press secretary Josh Earnest said.
Obama has directed his staff to be in touch with senior Ukrainian officials, Earnest said.
The route the Malaysian plane was on, between Kuala Lumpur and the Netherlands, is a common one, aviation safety consultant Mary Schiavo said Thursday. She said that the plane was flying over a troubled area and that close communication with air traffic controllers would be a key necessity.
In hostile or disputed areas, "any alteration from your course, and you can have a problem," she said.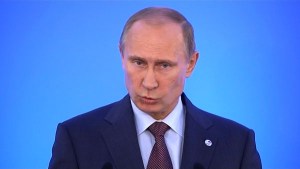 Russia-Ukraine dispute
Tensions have been high between Ukraine and Russia since street protests forced former pro-Moscow President Viktor Yanukovych from power in February. Russia subsequently annexed Ukraine's southeastern Crimea region, and a pro-Russian separatist rebellion has been raging in Ukraine's eastern Luhansk and Donetsk regions..
Ukrainian forces have been struggling to quell the separatist unrest. Ukraine's government has accused Russia of allowing weapons and military equipment, including tanks, to cross the border illegally into the hands of pro-Russian separatists.
The Pentagon said Wednesday that Russia now has 12,000 troops on the border with Ukraine, as well as some heavy weapons. The troop numbers had fallen to about 1,000 previously from a high of an estimated 40,000 forces earlier this year.
On Thursday, CNN reported that Ukrainian officials said a Russian fighter shot down a Ukrainian jet Wednesday as the jet flew in Ukrainian airspace.
Tensions are high over that incident, separate from the breaking news of the Malaysian flight Thursday.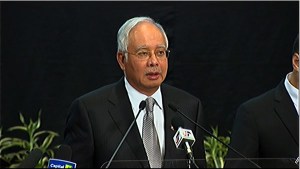 Airline's troubles
On top of that, the report of a downed Malaysian flight marks the second time this year that Malaysia Airlines has faced an incident involving a plane.
On March 8, Malaysia Airlines Flight 370 disappeared. That plane had 239 people on board. Searchers have found no trace of 370 or its passengers, despite extensive search efforts.
Flight 370 probably flew into the southern Indian Ocean on autopilot with an unresponsive crew, Australian authorities said last month.
During the early phase of the search for Flight 370, aircraft and ships scoured vast stretches of the surface of the southern Indian Ocean but found no debris.
Pings initially thought to be from the missing plane's flight recorders led to a concentrated underwater search that turned up nothing.
A new underwater search, farther south, will be broadly in an area where planes and vessels had already looked for debris on the surface of the water. It is expected to begin in August.
This story will be updated as more information is found. CNN contributed to this story.