This is an archived article and the information in the article may be outdated. Please look at the time stamp on the story to see when it was last updated.
CHICAGO — While some players took a knee for the national anthem on Sunday, three NFL teams decided not to participate.
The Pittsburgh Steelers, Seattle Seahawks and Tennessee Titans stayed in the locker room during the anthem in response to President Donald Trump's comments over the weekend.
Steelers coach Mike Tomlin told CBS Sports before the game that he didn't think players should have to choose if they should protest or not.
"We're not participating in the anthem today. Not to be disrespectful to the anthem but to remove ourselves from the circumstance. People shouldn't have to choose [on protests]," Tomlin said.
Steelers head coach Mike Tomlin reveals to @JamieErdahl that the team will not be participating in today's national anthem. pic.twitter.com/5zihPWQsMv

— NFLonCBS (@NFLonCBS) September 24, 2017
"We're not gonna let divisive times and divisive individuals affect our agenda," Tomlin said. "We're not going to play politics — we're football players and coaches.
"For us as a football team, it's about us remaining solid. We're not going to divided by anything said by anyone and that's the thing I said to our guys. I said, if you feel the need to do anything, I'm going to be supportive of that. But whatever we do, we're going do 100 percent, we're going to do together."
One Steelers player,  Alejandro Villanueva, a former Army Ranger, stood outside the stadium tunnel during the anthem .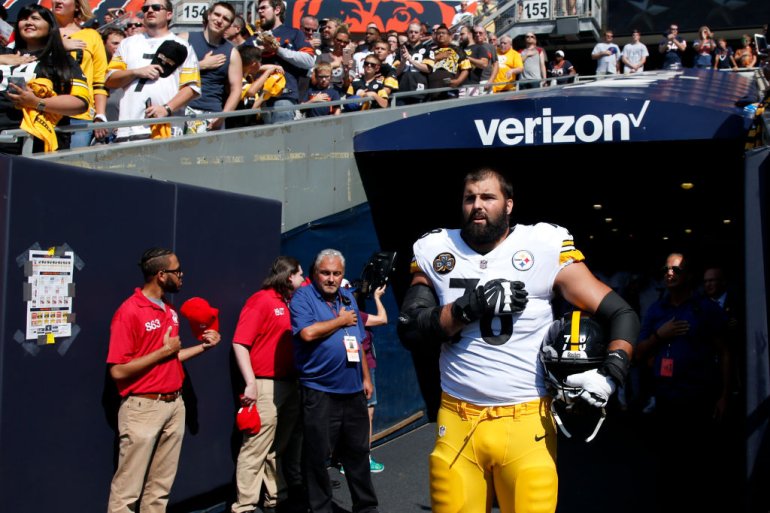 Meanwhile the Seahawks and Titans played each other in Nashville and both teams stayed in the locker room to show unity.
"We will not stand for the injustice that has plagued people of color in this country," the Seahawks said in a statement.
— Seahawks PR (@seahawksPR) September 24, 2017
"As a team, we wanted to be unified in our actions today. The players jointly decided this was the best course of action. Our commitment to the military and our community is resolute and the absence of our team for the national anthem shouldn't be misconstrued as unpatriotic," the Titans said in a statement.
Not a single player from the Titans or the Seahawks participated in the National Anthem just now. pic.twitter.com/yskxkpFYL0

— Shaun King (@shaunking) September 24, 2017
The move comes after Trump criticized some in the NFL on Friday night at a rally in Alabama, saying team owners should fire players for taking a knee during the national anthem.
Trump responded to Sunday's protests on Twitter, saying that "standing with locked arms is good, kneeling is not acceptable." The president later retweeted someone calling for a boycott of the NFL.
Great solidarity for our National Anthem and for our Country. Standing with locked arms is good, kneeling is not acceptable. Bad ratings!

— Donald J. Trump (@realDonaldTrump) September 24, 2017