This is an archived article and the information in the article may be outdated. Please look at the time stamp on the story to see when it was last updated.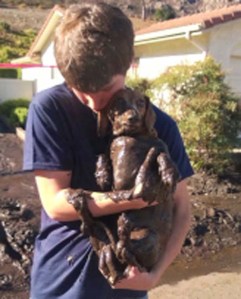 CAMARILLO SPRINGS, Calif. — A California family's pet dog was believed to have been killed when a mudslide damaged their home on Halloween night, but the pooch was found alive and well over the weekend.
Mud and rocks broke through Henry Needham's home, leaving mud that was waist-deep. Firefighters rescued Needham, but his dog, a dachshund named Tinkerbell, was believed to have been killed.
But on Sunday, Needham's grandson heard Tinkerbell barking from inside the damaged home. Firefighters came back and rescued the dog.
Dozens of neighbors were cheering as the mud-splattered dog came out of the home, Needham told KTLA.
A neighbor shared photos of Tinkerbell being held by Needham's grandson just after the rescue.