This is an archived article and the information in the article may be outdated. Please look at the time stamp on the story to see when it was last updated.
SMYRNA, Ga. — A Georgia mother tragically died while trying to protect her 6-month-old child in a domestic violence case.
According to WSB, Jessica Arrendale, 33, was out with Antoine Davis, 30, the father of their daughter, last Saturday night when the former Marine reportedly became "belligerently drunk and abusive."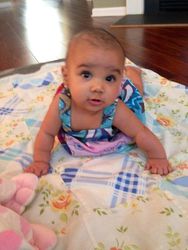 Arrendale went up the stairs of her townhouse and tried defending herself with a baseball bat, but Davis struck her several times with the bat, Arrendale's mother, Teresa Ionniello told WSB.
Arrendale was clutching 6-month-old Colbie, who might have been hit by the bat because she has a traumatic head injury. Somehow, Arrendale was able to lock herself in the bathroom, but Davis got his assault rifle, burst into the bathroom and shot Arrendale in the head as she held on to Colbie.
"He shot her and (the police) don't know how she was able to twist her body and fall literally in the opposite direction," Ionniello told WSB.
Ionniello said Arrendale somehow fell over the toilet, dropping Colbie into the water-filled bowl.
"She had pure will," Ionniello said. "She wanted that baby to live."
Ionniello said she believes Davis wanted to kill Arrendale and the baby but when he didn't see the child inside the bowl partially covered by Arrendale's body, he left the room and shot himself.
"She was the hero," Ionniello said, "because her last breath was saving the child."
When police arrived they didn't want to rush the house, not knowing the circumstances inside. The baby remained in the toilet for 13 hours before officers stormed inside.
Colbie is being treated at Children's Health Care of Atlanta at Scottish Rite Hospital, and Ionniello hopes to bring her home soon.
Friends and family have set up a gofundme page to help offset the cost of the funeral and aid in the education of Arrendale's children. Nearly $11,000 has been raised as of Friday morning.