This is an archived article and the information in the article may be outdated. Please look at the time stamp on the story to see when it was last updated.
DAYTON, Ohio — An F-16 Thunderbird carrying a Littleton man was flipped over by a strong gust of wind Friday.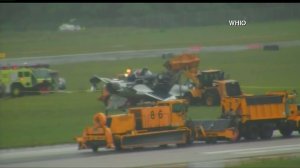 The F-16D Fighting Falcon crashed into the grass as it taxied to the staging area after a performance at the Dayton Air Show at around 12:20 p.m.
Before the rollover at Dayton International Airport, the military plane flew the skies as gusts reached up to 30 mph and heavy rain showered the area, sometimes pouring down as much as 2 inches per hour.
According to the Dayton Daily News, a CareFlight unit responded to the crash and removed the pilot, Capt. Erik Gonsalves, from the aircraft 90 minutes after the crash.
The passenger, Sgt. Kenneth Cordova of Littleton, was rescued about 20 minutes later.
Dayton police and the CareFlight medic unit took both to a hospital with nonlife-threatening injuries.
According to an article on the U.S. Air Force Thunderbirds website, Gonsalves is an advanced pilot and narrator with the Thunderbirds.
This year marks his first season with the team, but he's logged more than 1,600 flight hours as an Air Force pilot, including more than 500 hours of combat experience.
Cordova is a tactical aircraft manager.
A post issued on the U.S. Air Force Thunderbird's Facebook page reads: "The United States Air Force Thunderbirds were conducting a single-ship familiarization flight on Friday June 23, 2017. Upon landing there was a mishap at the Dayton International Airport with an F-16D Fighting Falcon at approximately 12:20 p.m. Emergency services are on the scene. We will provide more information as it becomes available."