This is an archived article and the information in the article may be outdated. Please look at the time stamp on the story to see when it was last updated.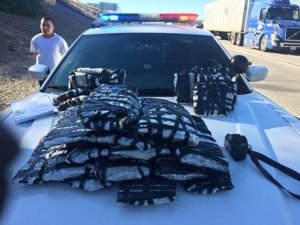 DEARBORN COUNTY, Ind. — A man from Denver was arrested in Indiana after state police troopers found several packages of marijuana in an SUV during a traffic stop Wednesday.
It happened on Interstate 74 in Dearborn County when a 2004 Ford Excursion was stopped for a traffic violation.
"While conducting the traffic stop, Trp. [Randel] Miller became suspicious that criminal activity was taking place. Trp. Miller deployed his narcotics detection K-9 'Jinx' to conduct a sweep of the vehicle. Jinx alerted to the odor of drugs coming from the vehicle," Indiana State Police said in a statement.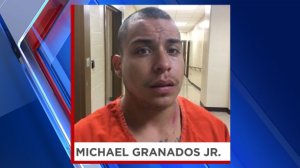 "During the search of the vehicle, troopers located numerous individually wrapped plastic bundles containing suspected marijuana. The packages were hidden in various locations inside the vehicle. In total, the packages weighed approximately 33 pounds with an estimated street value of $150,000."
Michael Granados Jr., 23 of Denver, was taken into custody. He was a passenger in the vehicle.
He faces charges of dealing marijuana (more than 10 pounds) and possession of marijuana (more than 10 pounds). The driver was released without charges.
Troopers said they determined the marijuana had originated in Colorado and was being taken to an unknown location in Ohio.
In a separate case on the same day, a man from Colorado Springs was arrested during a traffic stop in Indiana.
State police found 75 pounds of marijuana and other drugs in his vehicle. They said he was also on his way to Ohio.