This is an archived article and the information in the article may be outdated. Please look at the time stamp on the story to see when it was last updated.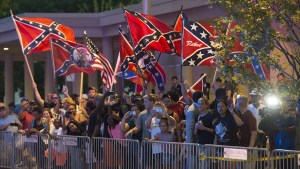 OKLAHOMA CITY -- Confederate flag supporters showed their colors during protests in Oklahoma on Wednesday.
With President Barack Obama in the state, about 10 people waved Confederate flags as the president's motorcade arrived at his hotel.
Earlier in the day, demonstrators parked along a highway in Durant, Okla., with Confederate flags waving from their vehicles and in hand.
The flag is a symbol of historic pride for some and a symbol of hate and slavery for others. Confederate flag supporters said some Americans died in support of the flag and it's part of U.S. history that should not be ignored.
The demonstration comes after South Carolina lawmakers voted to remove the Confederate flag from its State Capitol grounds.
The protesters in Durant said the demonstration had nothing to do with Obama's visit.