This is an archived article and the information in the article may be outdated. Please look at the time stamp on the story to see when it was last updated.
[protected-iframe id="dacc97f1bbde3fabe7d1a70dcb5752f1-29290497-41735740″ info="http://launch.newsinc.com/?type=VideoPlayer/Single&widgetId=1&trackingGroup=69016&siteSection=kfor&videoId=26123644″ width="770px" height="513px" ]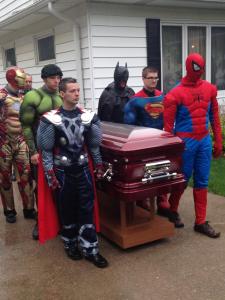 NEWTON COUNTY, Ind. — A five-year-old Indiana boy recently lost his battle with cancer.
So his family decided his funeral would celebrate the superheroes he loved.
In September, WLFI-TV introduced everyone to then 4-year-old Brayden Denton and his mother, Staci Denton.
At the time Brayden was in the middle of his battle with a brain tumor.
Denton said it was a battle fit for a superhero but as the months went on Brayden got worse.
"He stopped completely walking then we got through that hurdle," she said. "Then he started not being able to eat or drink."
Earlier this month Denton took Brayden to Riley Hospital for Children.
Then, on May 8, she said her son pretty much stopped breathing.
When planning a funeral for her superhero, something came to Denton's mind.
Forget the suits and dresses, instead she wanted her loved ones representing what Brayden loved the most, superheroes.
"He was a huge Spiderman fan," she said. "He had to quit just liking Spiderman because he had all the toys. So really he liked every superhero."
A league of superheroes showed up.
Pallbearers were dressed as Brayden's favorite superheroes.
The man who dressed as "Thor" is Brayden's uncle, Cory Denton.
"It was hard but I did it for him," Cory said. "We went to the Superman movie with him and he was dressed up as Superman. I watched all the 'Ironmans' with him."
The picture of the Denton's superhero being carried by his superhero friends has had hundreds of shares on Facebook.
It may have been an unconventional funeral but his family said it's what Brayden would've wanted.
Cory said even if Brayden is not with him in the flesh he will always be his number one movie buddy.
"He's always here with me and I'll always watch them with him because he is always with me," Cory said.
Denton donated her son's tumor to research.
She is also working with Senator Ron Alting of Indiana to get the state to recognize September as National Childhood Cancer Awareness Month.