This is an archived article and the information in the article may be outdated. Please look at the time stamp on the story to see when it was last updated.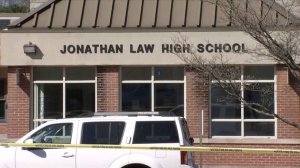 MILFORD, Conn. — A 16-year-old girl was assaulted and killed by a classmate Friday morning at a Milford, Connecticut, high school, apparently because she turned down his invitation to the senior prom, local media reported.
The attack occurred in a hallway at Jonathan Law High School around 7 a.m. and was witnessed in part by a school staff member, who attempted "life-saving measures" with others, Milford Police Chief Keith Mello said.
Maren Sanchez, a junior, was pronounced dead at Bridgeport Hospital at 7:43 a.m., Mello said.
The police chief didn't provide a motive.  Investigators are looking into rumors a boy was angry because Sanchez had declined to go to the prom with him, News 12 reported.  The prom, scheduled for Friday night, has been postponed.
Sanchez had "severe injuries that were visible around the neck area," Mello said, but he would not say if a weapon was used in the attack.
The attacker, also 16, was taken into custody without resistance and handed over to police, Mello said. The male student is not being named because he is a juvenile, Mello said.
Mello called the altercation an "isolated incident" and said authorities quickly determined there was no threat to other students. The school was closed Friday morning at the request of police because it is an active crime scene, Mello said.
Milford Public Schools Superintendent Elizabeth Feser called Sanchez a "vibrant" teen who was loved and respected by her peers and did well academically.
Sanchez posted a photo of herself in a new dress ont the JLHS Prom Dresses 2014 Facebook group page on March 3. She added a note: "Yay, So excited!"
Counseling services will be available to students throughout the weekend, Feser said.
Also at a press conference, state Sen. Gayle Slossberg expressed sadness and said Gov. Dannel P. Malloy "stands ready with any and all resources the state can offer to help us heal."
An arraignment for the suspect has not yet been scheduled. Authorities have not decided if classes will be held Monday.
™ & © 2014 Cable News Network, Inc., a Time Warner Company. All rights reserved.