This is an archived article and the information in the article may be outdated. Please look at the time stamp on the story to see when it was last updated.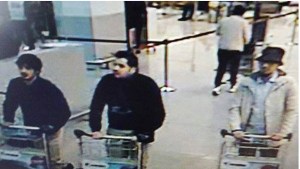 BRUSSELS — Belgian police released a notice that includes a photograph of a suspect "wanted (for) terrorism," asking the public, "Who recognizes this man?"
He's shown dressed in light clothing, wearing glasses and a hat and pushing an airport luggage cart. The wanted notice went out shortly after a U.S. law enforcement officials said American authorities had gotten a picture from their Belgian counterparts of three possible suspects.
None of those three — who were shown pushing luggage carts, like the man in the photo released by Belgian police — has been identified by name, nor was it immediately known if any attackers are at large.
"Two of them probably carried out suicide attacks," Belgian prosecutor Frederic Van Leeuw said. "A third one, dressed in a light jacket and hat, is actively being searched for."
Authorities are looking through residences in the European country in connection with this investigation, but in the interests of protecting the probe, they won't reveal exactly where, Van Leeuw said.
ISIS — as it has for other terrorist attacks in Europe, Asia and Africa — embraced all the assailants. Its claim noted that Belgium is "participating in the international coalition against the Islamic State."
In fact, Belgian warplanes flew 796 sorties and launched 163 airstrikes over Iraq from September 2014 to July 2015, according to the U.S.-led anti-ISIS coalition, and were set to resume these operations this summer.
And the extremist group may not be done. One Twitter post widely circulated by prominent ISIS backers featured the words, "What will be coming is worse."
A senior U.S. official thinks it's no coincidence that ISIS would want to strike in Brussels, home to the headquarters of NATO and the European Union.
"They are trying to make an international statement," the official said. "They aren't stupid."