This is an archived article and the information in the article may be outdated. Please look at the time stamp on the story to see when it was last updated.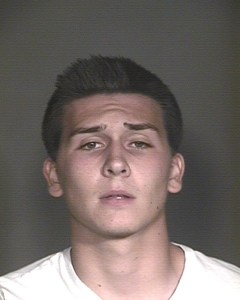 MESA, Ariz. — A high school football player will not face charges after he exposed himself during the team's yearbook photo as a prank, the Maricopa County Attorney's Office announced Wednesday night.
Hunter Osborn had of the charges dismissed after all 69 people in the photo — who were considered victims — declined to press charges.
An online petition pushed for the charges to be dropped.
"I'm so happy with all the support, I am so thankful," Osborn, who is now 19, told KNXV-TV in Phoenix. "God is on my side and I'm blessed [by] everything that's happened from the support side."
Osborn, who was 18 at the time of the photo, was facing one count of furnishing harmful items to minors and 69 counts of misdemeanor indecent exposure over the prank. He was arrested Saturday.
About 3,400 yearbooks were distributed before the prank was noticed, KTVK reported. Osborn reportedly told police he was dared to do it by a teammate and was "disgusted" with himself.
Most students who spoke with KTVK-TV said they didn't notice the issue until it was pointed out and thought the charges were too harsh for what they see as a prank.