This is an archived article and the information in the article may be outdated. Please look at the time stamp on the story to see when it was last updated.
CALIFORNIA — New mom Lindsay Jaynes was just trying to be proactive. Weeks before a scheduled trip, she tweeted Delta Air Lines just to make sure she'd be allowed to breastfeed without a cover during the flight.
Next time she might just nurse first and ask questions later.
After a Delta representative responded that she couldn't breast feed unless she had a cover-up, the California mom suddenly found herself in the middle of a social media storm and frustrated by the airline's attempts to smooth things over.
Friday night, Jaynes sent the following tweet: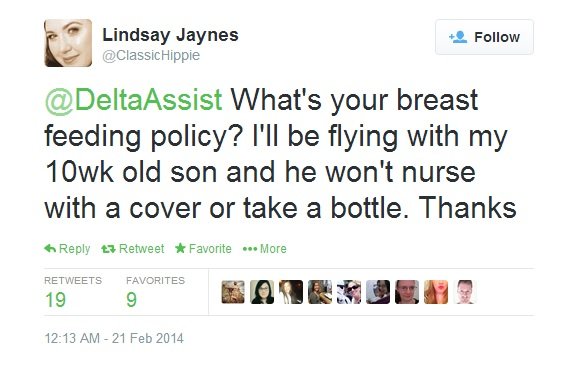 The reply?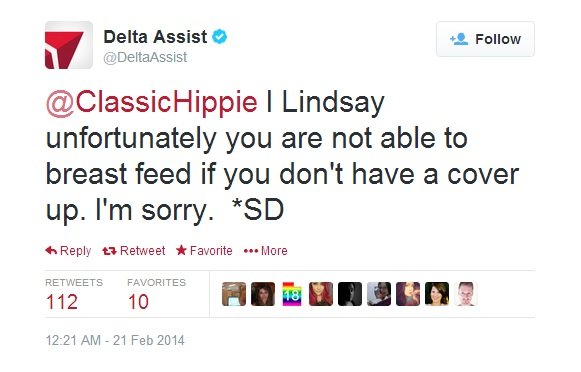 In an interview with WXIA, Jaynes said she was shocked by the answer.
"I was expecting a link to their policy I could print out just in case there were any issues."
Oh, there were issues all right. And they started piling up right in her Twitter feed.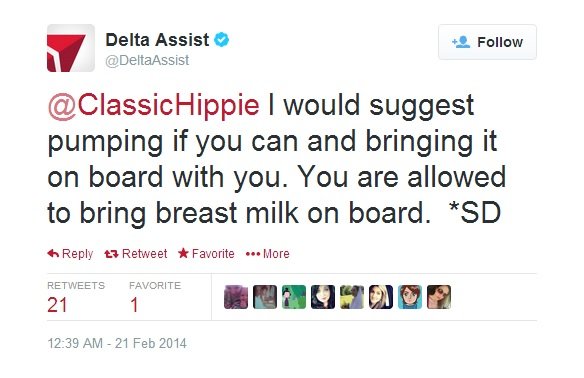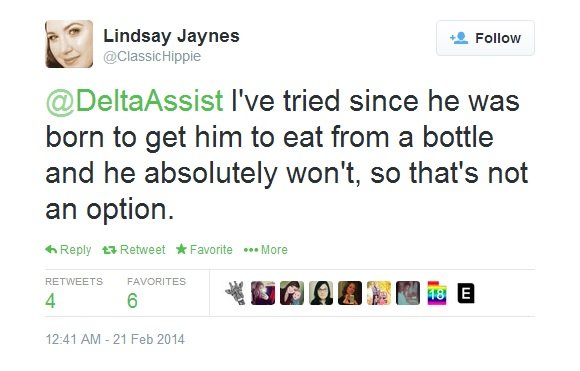 By this point, the public back-and-forth had caught the attention of breastfeeding supporters and advocates. A tweet from popular community site The Leaky Boob advised Jaynes she didn't have to ask for the airline's permission to nurse without a cover.
"I was just trying to head off any problems before I even got on the plane, but that's obviously not happening :( " she replied, frowny face included.
Someone else had obviously taken notice of the conversation as well, since @DeltaAssist, a customer-friendly Twitter account run by the airline, went silent and then hours later contacted Jaynes with an apology and completely different guidance from what she'd been told earlier.
"@ClassicHippie Delta welcomes breastfeeding mothers and babies on our flights. We apologize for the misinformation earlier. *TH"
The airline followed up with a private direct message, briefly apologizing to Jaynes "about the misinformation." But unimpressed, she went ahead and made their apology public, while also noting Delta told her the person with whom she initially tweeted "has been informed of the correct policy" regarding nursing mothers.
Jaynes explained on Twitter that her 10-week-old son, Seamus, has "refused" to take a bottle or feed while under a nursing cover. An overwhelming number of people on the site have sympathized with and rallied behind her, while also taking aim at Delta.
"Nothing infuriates me more than imposing shame and modesty on women, especially when they are simply feeding their children. @DeltaAssist," tweeted one woman.
However, Jaynes has also been retweeting samples of the other kinds of messages she's now receiving as a result of all this, including these:
"@DeltaAssist great move! @ClassicHippie when you're comfortable with men flopping their winkies at you, then you can flop your boobs around" — @RayJuniorShow
"@ClassicHippie I get your kid has to eat and all but why make other people on your flight uncomfortable? It's quite disrespectful." — @SMARKRAGE
General rule of debate: If your sentence begins with "I get that your baby has to eat and all" there is nothing which can follow that will help your cause. However, here's one reply we can pretty much all agree with, from @thecrabigail:
"Pretty sure passengers and crew would be more offended by screaming baby than happily eating one."
In 2012, a woman reached a settlement with Delta, Freedom Airlines and Mesa Air Group after being ordered off a Delta-operated flight in 2006 when she refused to cover up while breastfeeding her child.
™ & © 2014 Cable News Network, Inc., a Time Warner Company. All rights reserved.