This is an archived article and the information in the article may be outdated. Please look at the time stamp on the story to see when it was last updated.
CHRISTCHURCH, New Zealand — A 7.8-magnitude earthquake rocked New Zealand's South Island, triggering a tsunami as people fled buildings in a panic and were told to seek higher ground.
At least two people died in the series of violent quakes, according to Prime Minister John Key.
The quake struck around around 30 miles northeast of Christchurch just after midnight local time Monday, the U.S. Geological Survey reported. Waves of 2.49 meters above usual tide levels were measured near the epicenter by the Pacific Tsunami Warning Center.
The country's entire east coast is at threat of dangerous waves, the New Zealand Civil Defense said on Twitter in an advisory, adding that initial waves might not be the largest and that they could continue for several hours.
"Move inland or to higher ground immediately," the warning said.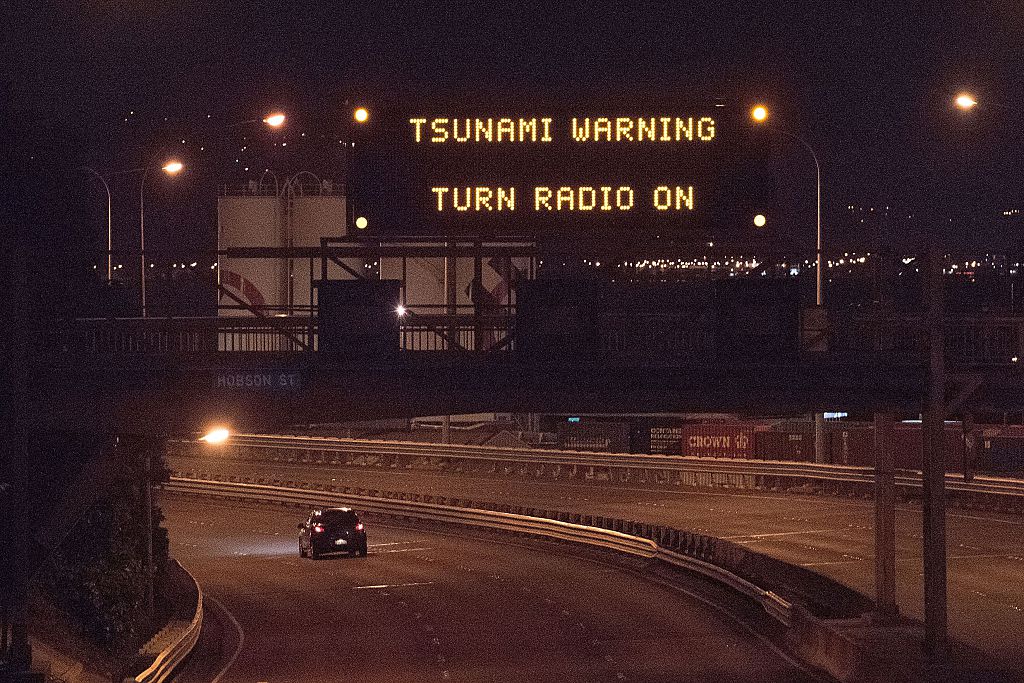 New Zealand is a South Pacific nation of islands, the two largest being the North and South islands, which are home to most of the population. Slightly more than 1 million people live in the South, while the North has more than 3 million.
'It's going to be a long night'
In Christchurch, memories of a devastating 6.3-magnitude earthquake in 2011 are still fresh for many. That quake killed 185 people and injured thousands, and reduced swathes of the city's historic area to rubble.
"The land has been very peaceful for many, many months. So this is bringing back all the rare memories," said Chet Wah, owner of Designer Cottage B&B in Christchurch.
"I just checked with all the guests. They are alright. It is scary. It's going to be a long night."
Christchurch, on the South Island's eastern coast, has a population of over 340,000 people, the most recent census shows.
Powerful aftershocks
Images emerged on social media of grocery items fallen off supermarket shelves and water rocking back and forth in swimming pools.
And at least three aftershocks hit near South Island, the USGS said, some with a magnitude as high as 6.2.
"This is the strongest [earthquake] I've ever felt," Tamara Hunt said.
She was with her husband at their home in Whanganui when the earthquake struck.
"It started off so small, like the cat moving in the bed, but then it started building and I had to run to the door. Stuff in the house was falling over and the doors were swaying really bad," she said. "Then we decided to get out, and that's when we saw our pool had lost a lot of water. The earthquake went on for two minutes."
WELLINGTON, NEW ZEALAND - NOVEMBER 14: People wait in Te Aro Park after being evacuated from nearby buildings following an earthquake on November 14, 2016 in Wellington, New Zealand. The 7.5 magnitude earthquake struck 20km south-east of Hanmer Springs at 12.02am and triggered tsunami warnings for many coastal areas. (Photo by Hagen Hopkins/Getty Images)

WELLINGTON, NEW ZEALAND - NOVEMBER 14: Glass and rubble covers the footpath on Wakefield Street after an earthquake on November 14, 2016 in Wellington, New Zealand. The 7.5 magnitude earthquake struck 20km south-east of Hanmer Springs at 12.02am and triggered tsunami warnings for many coastal areas. (Photo by Hagen Hopkins/Getty Images)

WELLINGTON, NEW ZEALAND - NOVEMBER 14: Mannequins lie on the ground in Glassons clothing store after an earthquake on November 14, 2016 in Wellington, New Zealand. The 7.5 magnitude earthquake struck 20km south-east of Hanmer Springs at 12.02am and triggered tsunami warnings for many coastal areas. (Photo by Hagen Hopkins/Getty Images)

WELLINGTON, NEW ZEALAND - NOVEMBER 14: Amora Hotel guests gather in a carpark after an earthquake on November 14, 2016 in Wellington, New Zealand. The 7.5 magnitude earthquake struck 20km south-east of Hanmer Springs at 12.02am and triggered tsunami warnings for many coastal areas. (Photo by Hagen Hopkins/Getty Images)

(Photo: Marty Melville/AFP/Getty Images)

(Photo by Hagen Hopkins/Getty Images)

The 7.4-magnitude earthquake hit just north of Christchurch. (Image: CNN)