This is an archived article and the information in the article may be outdated. Please look at the time stamp on the story to see when it was last updated.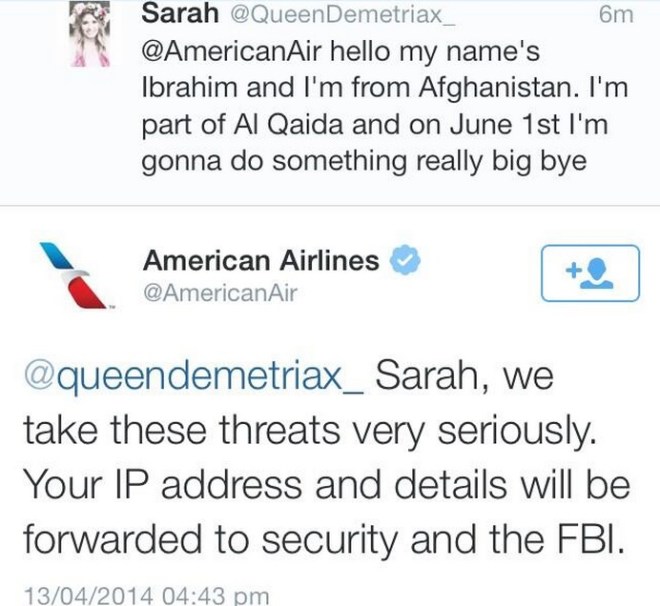 A 14-year-old Dutch girl has been arrested after she apparently tweeted a threat to American Airlines on Sunday.
Twitter user @QueenDemetriax_ apparently sent a tweet to American Airlines that read: "Hello, my name is Ibrahim and I am from Afghanistan. I am part of Al Qaeda and on June 1 I am gonna do something really big bye."
American Airlines publicly responded: "Sarah, we take these threats very seriously. Your IP address and details will be forwarded to security and the FBI."
The airline later deleted its response to @QueenDemetriax_and issued a statement: "At American, the safety of our passengers and crew is our number one priority," American said in a statement. "We take security matters very seriously and work with authorities on a case by case basis."
She was subsequently arrested.
Dutch girl (14) from Rotterdam arrested after American Airlines threat. Investigation continues. #Rotterdam #Police #Force @americanair

— Politie Rotterdam eo (@Politie_Rdam) April 14, 2014
The FBI has not commented on the tweet. Twitter has since suspended the account.
There was initially some doubt about who was behind the account, but police have confirmed that it was the teen. Some of the account's subsequent tweets seemed to be contradictory and just plain strange:
I'm all over the internet, do you guys think I'm happy? Bc I'm not.
Don't mention me unless you're Demi Lovato
I blocked the FBI just in case
And my name's Jesus.