This is an archived article and the information in the article may be outdated. Please look at the time stamp on the story to see when it was last updated.
A mural painted along the Cherry Creek bike path in Denver has won a national arts award.
The mural by Gemma Danielle is called "City of the Sun."
It features a gold mandala on a blue background. Multiple gold stars radiate out from the mandala, connected with white, intersecting lines which form countless triangles.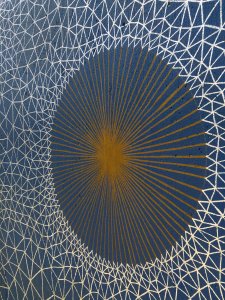 It's located on the bike path between Wynkoop and Blake.
The mural spans nearly 1,000 square feet and was designed "as a prayer wheel reminiscent of the night sky," according to Confluence Denver.
One reviewer described Danielle's piece as "Pythagorean quantum mysticism."
"City of the Sun" was one of 38 public arts projects created in 2015 that were honored by Americans for the Arts.
"The works were chosen from 260 entries across the country," Confluence Denver stated.
The artwork was funded through Denver Arts & Venues' Urban Arts Fund. The fund is used to put murals in graffiti-prone areas.
It is one of many pieces of street art along the Cherry Creek bike path and in the surrounding area.
Check out this interactive map of urban art projects in the metro area:
[googlemaps https://www.google.com/maps/d/embed?mid=1Vi9sUTwUWsjMqEb6McQSXyBAzsE&w=640&h=480]