This is an archived article and the information in the article may be outdated. Please look at the time stamp on the story to see when it was last updated.
JEFFERSON COUNTY, Colo. — The motorcyclist killed in a Jefferson County hit-and-run late Monday night was identified Wednesday.
Paul Dacko, 63 of Wheat Ridge, was pronounced dead at the scene of the crash on Highway 285 at C-470, the Colorado State Patrol said.
The Colorado State Patrol said Dacko was traveling northbound on Highway 285 just after 11 p.m. when he was struck from behind by a Mazda Protege.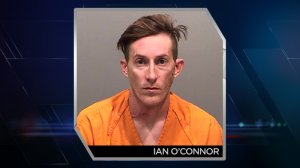 Dacko was ejected, and was thrown across the median and into the southbound lanes, the Colorado State Patrol said.
The driver of the Protege, 31-year-old Ian O'Connor from Denver, tried to flee on foot but was found at a nearby gas station.
He was taken to St. Anthony Hospital in Lakewood to be treated for minor injuries then booked into the Jefferson County Jail.
O'Connor is being held without bail and is facing charges of vehicular homicide, reckless driving, driving under the influence, hit-and-run resulting in death, and failure to notify police and remain at an accident.
A GoFundMe page has been set up to help pay for Dacko's funeral expenses.