This is an archived article and the information in the article may be outdated. Please look at the time stamp on the story to see when it was last updated.
LOCHBUIE, Colo. — A mother has been arrested after a video showing alleged child abuse was posted on YouTube and shared hundreds of times on Facebook went viral, the Lochbuie Police Department said Thursday. The child is safe and in protective custody.
https://twitter.com/LochbuiePolice/status/733310166687420416
Several viewers emailed the video to FOX31 Denver and authorities opened an investigation of the alleged abuse of the toddler, who is heard being cursed and screamed at by his mother as he cries.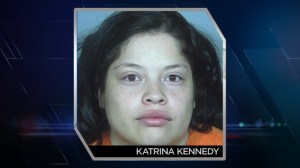 Katrina Kennedy, 27, also known as "Trina," was arrested about 9:30 p.m. Wednesday on charges of cruelty toward a child and is being held on $3,000 bond.
She appeared in a Weld County court Thursday afternoon on a bond hearing via video conference but showed no emotion as the judge ordered no contact with the the 2-year old son she's accused of abusing after the video came to light.
The boy is in the temporary custody of his aunt. He was seen laughing as he played with a ball in a park, a stark contrast to life with his mother, according to a friend.
In the viral video, Kennedy screams at the boy as his crying continues. The woman who recorded the video said the abuse wasn't just verbal but physical as well.
The video shows a slap, the baby crying and the mother throwing an object into a playpen. The woman then leans in and, according to the woman who shot the video, violently shakes the boy.
The alleged abuse is over a cellphone charger Kennedy accuses the 2-year-old of losing.
After the FOX31 Denver Problem Solvers first aired the story on Wednesday, authorities have charged Kennedy for the actions you see on video. The boy, who isn't being identified, was placed in the care of Kennedy's younger half-sister, Nicole.
"I confronted her. I was like what is wrong with you, like you really did this over a charger?" Nicole said after she said she watched the video online.
Nicole said Kennedy bounces from house to house with the boy and lives on and off with Nicole.
"This is not the first time this had been on her. But I've already talked to a social worker, I've already cried to them about how like I felt about her being his mother," she said.
She said Child Protective Services has been involved twice, including last year when the child had marks or burns on his hands.
"I am scared for him. Like I showed them myself what she has done to him and they never reached out to me," Nicole said.
Nicole and Kennedy's father said their earlier contacts with social workers went unanswered.
"With a video like this, there's no excuse. You go get that baby and you protect him," said the boy's grandfather, Steve Vigil.
For now, they say the boy is finally safe and sound.
Late Thursday, the boy was taken from Nicole's care and placed with nonfamily members. Kennedy remained in the Weld County Jail facing two counts of misdemeanor child abuse. Her bond was set at $3,000.
If convicted, she could be facing three months to one year in jail.
The woman who took the cellphone video but is not related to Kennedy said Lochbuie police also charged her with child abuse because she did nothing during the 16-minute video.
But the woman claimed she cannot walk or move and feels bad that she did not do more. She is due in court July 18.
[protected-iframe id="053d1405836d20c10910f2be8e86c922-29290497-62452405″ info="https://www.google.com/maps/embed?pb=!1m18!1m12!1m3!1d190075.7130573531!2d-104.77829366674288!3d39.987028821675146!2m3!1f0!2f0!3f0!3m2!1i1024!2i768!4f13.1!3m3!1m2!1s0x876c6b2e33c30d4d%3A0x1c7ac3c69b9ef40f!2sLochbuie%2C+CO!5e0!3m2!1sen!2sus!4v1463678102644″ width="100%" height="450″ frameborder="0″ style="border:0″ allowfullscreen=""]