This is an archived article and the information in the article may be outdated. Please look at the time stamp on the story to see when it was last updated.
DENVER — A new report on the cost of living in Colorado shows that the self-sufficiency standard has risen significantly in past years.
Driven by rising health care, food costs, housing and child care expenses, the amount of money someone needs to make basic ends meet has increased 32 percent from 2001 to 2015.
The report states that Colorado's minimum wage — currently set at $8.23 per hour — is insufficient to support families anywhere in the state and only sufficient to support one-person households in Bent, Otero and Custer Counties.
It also shows the following, among other findings:
A single adult living in Boulder County needs an hourly wage of $13.36 ($28,209 annual salary) to meet basic needs.
For families with young children, the cost of housing and child care combined typically make up about half of the family's budget.
In Colorado, the amount needed to be economically self-sufficient varies considerably by geographic location.
Statewide, the cost of health care, child care and housing increased dramatically from 2001 to 2015. Health care went up 86 percent, food by 63 percent, child-care by 48 percent and housing by 27 percent.
A parent working full-time at minimum wage can't meet the Standard for a family with two young children. He or she would only cover 35 percent of the Standard in Broomfield County and 61 percent in Alamosa County.
The 2015 Self-Sufficiency Standard for one adult with one preschooler and one school-age child in Denver ($27.18 per hour) is comparable to Washington, D.C. ($27.06 per hour).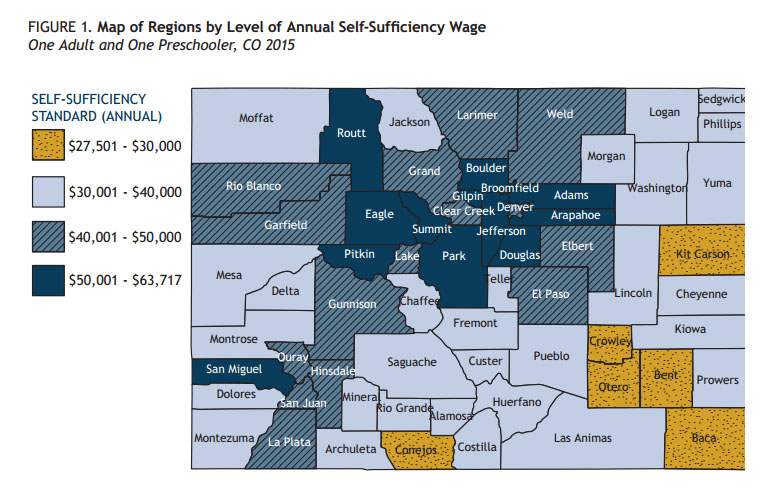 This report — The Self-Sufficiency Standard for Colorado 2015 — analyzes how much income Colorado families in each county must make to meet basic needs without public assistance.
The report is published by The Colorado Center on Law and Policy, an advocacy organization whose mission is to advance the status of low-income Coloradoans.
"Although recent economic forecasts show that Colorado's economy is rebounding from the recession in terms of GDP and job-creation, this comprehensive report shows why a vast number of Coloradans still cannot meet their basic human needs," said CCLP Executive Director Claire Levy in a press release.