This is an archived article and the information in the article may be outdated. Please look at the time stamp on the story to see when it was last updated.
DENVER -- A plumber who the state has ordered to quit working in that trade could face additional regulatory action.
The Department of Regulatory Agencies issued a cease-and-desist order against Daniel Murphy and two cease-and-desist orders against his business, All Phase Home Repair.
The Problem Solvers reported about Murphy and his business issues in June. A woman got her money back in that case, but more victims continue to come forward.
As a result, the state has opened another investigation, but in the meantime, the unlicensed plumber continues to run a plumbing business.
People who claim to have been scammed by Murphy said he won't return their calls. The Problem Solvers called All Phase Home Repair for a leaky sink.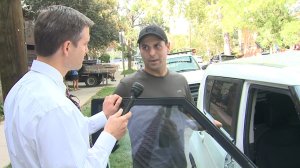 Accepting plumbing work is what could get Murphy in trouble with DORA.
After speaking with a producer, Murphy was on a sidewalk in Denver moments later.
"I wanted to ask you why are you soliciting plumbing business if the state of Colorado has a cease and desist order for you?" he was asked.
"Well I'm working with my friend here, and just doing minor stuff like handyman plumbing. I could've sworn that fixing leaky faucets and stuff like that was just handyman work," he said.
Murphy said he didn't know ther ewas a warrant for his arrest in Douglas County.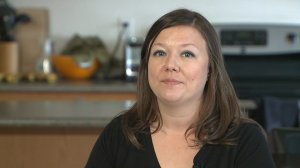 Parker resident Jessica Ippel won a small claims court default judgment when Murphy did not show up.
"You can't just go out and steal from people, it's not OK," Ippel said. "He takes our money, he doesn't show up for court. Why is this OK? Why can he just basically steal money? If he stole money like this from a business he'd be in jail."
Ippel hired Murphy to do plumbing work in a bathroom and install brass fixtures throughout her house, but after she gave him $2,000 he disappeared.
"He's really convincing. He uses the military card, he uses the religion card, just really makes you think he's a good guy and you can trust him and then he disappears with your money," Ippel said.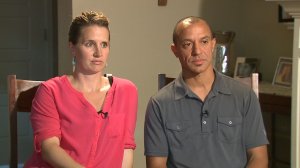 Three area residents said Murphy recently took their money.
"Obviously, if we had known about this we would have never hired him," Sarah Burdette said.
Sarah and Brian Burdette of Aurora said Murphy started plumbing work for their new kitchenette and bathroom, but he never finished it.
"After asking us for another $1,000 or $1,400 which we paid him so we could get our basement finished, he never came back," Brian Burdette said.
The couple filed in small claims court but have not been able to locate Murphy to serve him the papers.
"He's been a hard guy to find. Very hard to find," Sarah Burdette said.
The Better Business Bureau issued the business an "F" rating and multiple websites like Thumbtack, Go Smith and Yelp have removed his ads. Home Advisor still listed him as offering plumbing services, but after seeing our report, agreed to remove Murphy from its listings.
"There are constantly new complaints about him, screwing people over," Ippel said.
She said the Parker Police Department convinced Murphy to pay her back $400 and sign a note promising to pay back the rest, but six months later, she is still waiting.
When asked about Ippel's promissory note, Murphy ran away and said, "I was in rehab, man."
As he ran away from Low and two FOX31 photojournalists, Daniel Murphy replied, "I was in rehab man."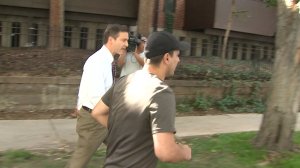 Murphy hopped in a car with a friend and drove away, though he later texted, insisting he plans to pay back his jilted customers.  So far he hasn't.
"It's not about the money at this point, it's about the fact that he keeps going out and doing this to people  over and over and over again new victims constantly," Ippel said. "What is it going to take to stop him?"
DORA is considering an injunction against Murphy so the state can take him to court and possibly jail.