This is an archived article and the information in the article may be outdated. Please look at the time stamp on the story to see when it was last updated.
DENVER -- We all know those runs to the grocery store can really add up and affect our budget, but it's hard to know which stores offer the best prices.
So FOX31 Denver decided to put together a price challenge.  We made a list of 10 staple items, and we shopped at three different stores -- Safeway, King Soopers and Walmart.
We bought the same basic things at each store on three different weeks, and then we compared the prices.
We bought generic for things like milk, bread, diapers and macaroni-n-cheese.  But we also bought brand names like Coke, Oreos, All laundry detergent and Comet cleaner.
We bought four Red Delicious apples, which would obviously vary in size, and when it came to sliced cheese, we just bought the cheapest deals we could find.
We used each store's customer loyalty cards to get the lowest prices, but we did not use any coupons or price matching guarantees.
What we found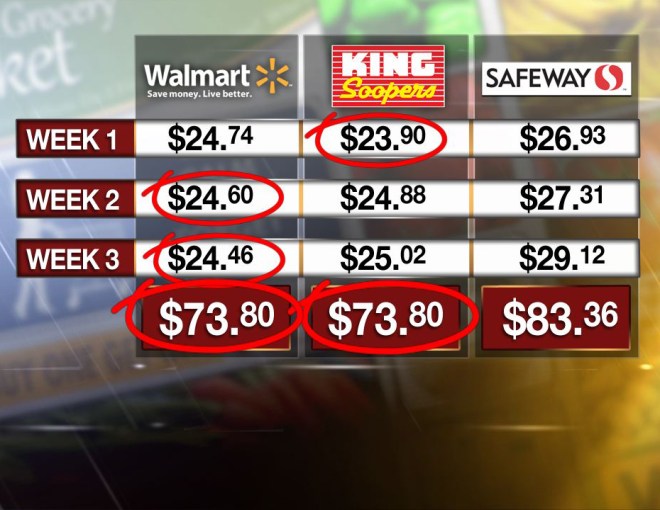 Walmart had the best prices on our items for two out of the three weeks we shopped. Walmart also had the most consistent total, only varying by 28 cents from week to week.
King Soopers had the best prices one week, but when you add up the three week totals, King Soopers and Walmart ended up in a tie.
"I think the sales vary a lot," said Sandra Hanna, CEO of www.smartcookies.com, a money saving website.

She said week to week prices are going to change based on sales, so if you are driving across town to a store thinking you are going to get the best deal, that might not always be the case.
Hanna believes the best bet is to find a store close to you that you like, and learn to get the best deals at that store.
"Chat with the manager, say 'Hey, where are we at with the price matching policy? With the double coupon policy? These are the items on my list right now, how can I make sure I get the best deal on them?.'"
Walmart offers a price match guarantee, and you can save at the other stores using coupons, and other cost saving measures, but that does take energy and time.  Some busy families don't have either.