This is an archived article and the information in the article may be outdated. Please look at the time stamp on the story to see when it was last updated.
COLORADO SPRINGS, Colo. — A Colorado Springs mother diagnosed with terminal cancer has a dying wish.
Bernice Abeyta wants to know what happened to her baby boy who went missing more than 30 years ago.
On a wall of cards in Bernice Abeyta's home, wishes for her health and happiness.
The 73-year old has been given a terminal diagnosis, she has stage four gallbladder cancer.
Now, for her, there is only one wish that matters, and time is running out for it to be granted.
"I do believe he`s still alive and at this point I`ve been trying to communicate with him and talk to him and just say, you might have to find me Christopher," Abeyta said.
Christopher, her seven-month old son, was snatched from his crib overnight from their family home in Colorado Springs three decades ago.
"You want your children to be free … and have a life. So I`d like this solved before I go," she said through tears.
Before she goes, she wants to know the truth of what happened.
"I think there are people out there that know something and they have been lied to and told stories to," Abeyta said.
She also wants him to know she's never stopped looking for him.
"I`d like to tell him we never gave up. We never would give up. He was the light of our life," she said.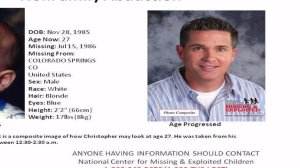 An age progression photo shows what the boy might look like today as a 30-year-old man.
Now battling against cancer and time, she said she'll spend her final days doing what she knows best, fighting for Christopher.
"I wouldn`t be alive if I didn`t do it," she said.
Colorado Springs Police say they now have a person of interest in the case.
It's someone that family members have suspected for years.
Abeyta and her six other kids are now trying to get a grand jury investigation open to finally bring closure to the case.