This is an archived article and the information in the article may be outdated. Please look at the time stamp on the story to see when it was last updated.
HIGHLANDS RANCH, Colo. -- Fresh off a very successful showing at the London Olympics, Missy Franklin is now sporting some fresh new ink.
Before appearing on The Tonight Show with Jay Leno and starting her senior year at Regis Jesuit High School, the 17-year-old stopped by White Lotus Ink in Highlands Ranch to commemorate her four gold medals and one bronze medal.
"At our shop, we don't tattoo anyone under 18, even with parental permission," said Matt Sager, who tattooed the Olympic rings on Missy's hip. "But we made an exception for Missy."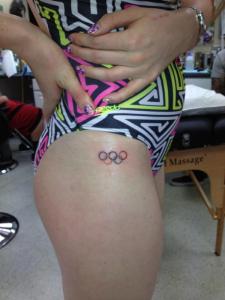 She tweeted out a picture of her tattoo Thursday, writing "All inked up! Can't believe it – My one and only!"
"She's just super excited about everything that's going on. She's definitely excited about the tattoo," said Sager, who hopes to see his work on display at the 2016 Olympics.
"In Rio, the next Olympics," said Sager, "I'll be able to see the tattoo and say 'Hey! I did that!'"
Story by Boris Sanchez