This is an archived article and the information in the article may be outdated. Please look at the time stamp on the story to see when it was last updated.
(CNN) — Miss Pennsylvania says she has given up her state crown because the Miss USA pageant was fixed, but organizers say an e-mail she sent this week shows she quit because of her disapproval over allowing transgender participants.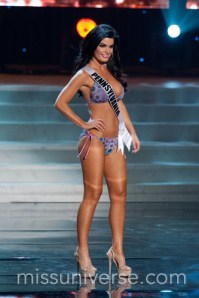 "I will relay to you the reasoning behind my resignation. I witnessed another contestant who said she saw the list of the Top 5 BEFORE THE SHOW EVER STARTED proceed to call out in order who the Top 5 were before they were announced on stage," Sheena Monnin wrote on her Facbeook page Tuesday.
"Apparently the morning of June 3rd she saw a folder lying open to a page that said 'FINAL SHOW Telecast, June 3, 2012' and she saw the places for Top 5 already filled in."
Monnin said she waited to see how things would play out.
"After it was indeed the Top 5 I knew the show must be rigged; I decided at that moment to distance myself from an organization who did not allow fair play and whose morals did not match my own," she wrote on Facebook.
But the Miss Universe Organization said that while Monnin did resign following Sunday night's pageant, her description of the events and why she quit is false.
"The Miss Universe Organization can confirm the resignation of the Pennsylvania titleholder after she did not place in the Top 16 at the Miss USA pageant. In an e-mail to state pageant organizers (below), she cited the Miss Universe Organization's policy regarding transgendered contestants, implemented two months ago, as the reason for her resignation," the organization said in a statement. "Today she has changed her story by publicly making false accusations claiming that the pageant was fixed; however, the contestant she privately sourced as her reference has vehemently refuted her most recent claim.
"We are disappointed that she would attempt to steal the spotlight from Olivia Culpo of Rhode Island on her well-deserved Miss USA win."
According to the e-mail released by the Miss Universe organization, Monnin sent her resignation after 4 p.m. ET Monday before writing on her Facbeook page, saying the organization had strayed by allowing transgender participants in the pageant.