This is an archived article and the information in the article may be outdated. Please look at the time stamp on the story to see when it was last updated.
DENVER — Election day is over and now it's time to dispose of all of those political campaign signs that have been planted in the ground and in front yards.
Some metro Denver cities, campaign organizations and Alpine Waste and Recycling are working together to collect and recycle the political yard signs.
The company wants to prevent an estimated 100,000-plus yard signs from going into landfills.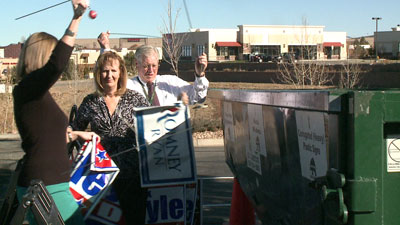 "After our municipal partners collect those yard signs, we will transport them to our Altogether Recycling plant and package them for delivery to processing plants, where the signs will be converted into plastic pellets," said Brent Hildebrand, vice president-recycling for Alpine.
There are drop-off locations in Denver, Arvada, Lone Tree and Parker. Cities wanting to get involved in the Yard Sign Recycling campaign should send an email to info@altogetherrecycling.com.
— Denver: Altogether Recycling Plant 645 W. 53rd Pl.
— Arvada: 6161 Olde Wadsworth Blvd. through Friday, Nov. 23. Please separate the plastic sign from the metal wicket before dropping in the container. Information: 720-898-7500
— Lone Tree: Municipal Building, 9220 Kimmer Dr. on the east side of the parking lot. Recycle bin will be there through Friday, Nov 23. Information: 303-708-1818
— Parker: Salisbury Equestrian Park, 11920 Motsenbocker Rd. in the overflow parking lot on the south side of the equestrian arena. 6 a.m. – 11 p.m. through Friday, Nov. 16. Information: 303-840-9546