This is an archived article and the information in the article may be outdated. Please look at the time stamp on the story to see when it was last updated.
DENVER — In recognition of Stupid Cancer Day on Friday, Denver Mayor Michael Hancock welcomed 650 cancer survivors between the ages of 15 and 39 to the opening of CancerCon at the Downtown Denver Sheraton.
Hancock made reference to his friend, Denver City Council President Albus Brooks, 37, a young adult diagnosed with skeletal cancer last year, saying he has been moved by his winning attitude.
The mayor met the man behind CancerCon, Matthew Zachary, a survivor and founder of Stupid Cancer — a national organization addressing the underserved needs of millennial and Gen Z survivors.
Backstage, the mayor also met Caly Bevier, 17, a pop singer and ovarian cancer survivor.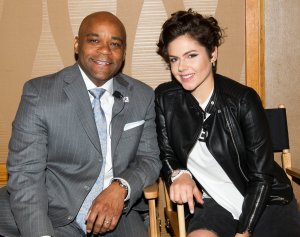 Last summer, "America's Got Talent" host Simon Cowell rang his Golden Buzzer for Bevier's rendition of "Fight Song," setting her career in motion.
Bevier was in town from Los Angeles, where she is recording her debut. She performed for the Denver audience after the mayor's remarks.
This is CancerCon's third year in Denver. The conference runs though Sunday.