This is an archived article and the information in the article may be outdated. Please look at the time stamp on the story to see when it was last updated.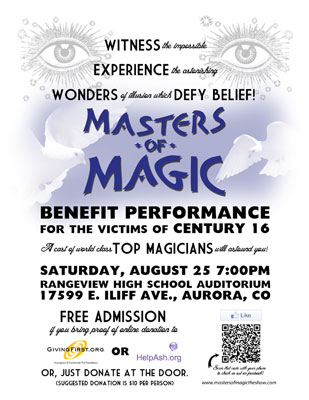 AURORA, Colo. — The man who once managed the Century 16 Theaters in Aurora is returning to the community Saturday night in hopes to offer some fun through magic.
A cast of world-class magicians from across the country will perform all kinds of amazing feats, illusions and mind-reading surprises.
All donations from those attend the show will go to victims of the shootings, especially Ashley Moser who lost her 6-year-old daughter and unborn child when she herself was shot.
"People can come out to the show, they can have a full evening of top-quality entertainment and take their minds off of it for a while, get back to a normal life, go out with your family on a Saturday night," says Jack Stephens, Masters of Magic producer.
The fundraiser begins at 7 p.m. The show is at Rangeview High School on E. Iliff Ave. just east of Buckley Rd.
The suggested donation for entrance to the show is $10. If you've already donated, just bring proof of the online donation.