This is an archived article and the information in the article may be outdated. Please look at the time stamp on the story to see when it was last updated.
DENVER — A massive closure of Interstate 25 in Denver started impacting traffic late Friday night and overnight until Saturday morning. It will be closed all day Sunday and reopen at 5 a.m. Monday in time for the morning rush.
The project eventually will bring improved traffic flow to northbound Interstate 25 between Santa Fe Drive and the U.S. 6 interchange by creating a fourth through lane, but not this weekend.
LINK: Real-time traffic delays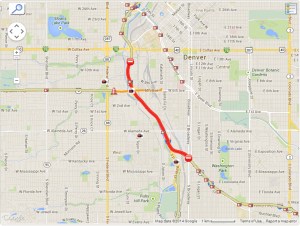 The Colorado Department of Transportation has detours in the area.
For northbound I-25, traffic will be detoured to northbound Santa Fe Drive, continue north to Eighth Avenue, then west to Kalamath Street, then south to westbound U.S. 6 to reconnect with northbound I-25.
For southbound I-25, traffic will detour west onto U.S. 6 to Federal Boulevard, then south to Fifth Avenue to merge onto eastbound U.S. 6, then reconnect with southbound I-25.
LINK: Live traffic cams across the metro area
Eastbound U.S. 6 near I-25 also could experience delays with additional traffic flowing through the detour.
Northbound Santa Fe Drive will close just south of I-25 with traffic detoured to Mississippi Avenue west to Broadway (and eventually Lincoln Street). Access to businesses on Santa Fe will be available by taking Alameda Avenue.
CDOT says the closures will consolidate more than one month of work by restriping and shifting northbound lanes into the weekend.
CDOT wants travelers to use Interstates 225 and 70, U.S. 285, C-470, E-470 or any other alternate routes during the closures.
Farther north, the I-25 North Express Lanes Project that is adding an HOV/tolled Express Lane in both directions beginning at 120th Avenue that will eventually connect to the existing Express Lanes at U.S. 36 will involve a closure this weekend as well.
One lane of the innermost portion of southbound I-25 between 84th Avenue and Thornton Parkway will be closed so I-25 pavement under the 88th Avenue bridge can be lowered. The closure will go into effect at 10 p.m. Friday and the lane will not reopen until 5:30 a.m. Monday.
"This portion of the I-25 North Express Lanes project has been reduced to 50 days from the original 100 days in order to minimize the impact to the traveling public," project engineer Andy Stratton said. "In order for us to remain on schedule we must move forward with this closure as quickly as possible despite weather delays."