This is an archived article and the information in the article may be outdated. Please look at the time stamp on the story to see when it was last updated.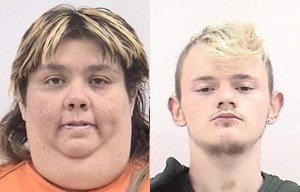 COLORADO SPRINGS, Colo. — A Colorado Springs couple are accused of stealing Christmas displays from dozens of families and dumping them in a back yard that one person described as a "decoration graveyard."
Jeremy Lewallen, 18, and his 42-year-old wife, Carrie Carley, were arrested Dec. 19.
According to their arrest affidavit, both the front and back yards of their home on Angelina Circle North was filled with decorations.
A neighbor, who had his own decorations taken, told police he drove by the suspect's home and saw a familiar looking Christmas display and called police.
The affidavit said the couple admitted to stealing about $2,000 worth of decorations.
Carley bonded out of jail on Christmas Eve and told KKTV-TV that her husband used to talk walks around the neighborhood and " then there was just more stuff in the yard."
"I didn't know exactly where it all came from," Carley said. "I guess he still thinks it's a game. He doesn't seem to care really one way or another."
Carley told the station that Lewallen spent some time in jail in November for stealing Halloween decorations.
She said she was afraid to call police when random Christmas decorations started appearing in her lawn because, "I didn't know if I called if I was going to get in trouble myself or not, you know, because it was in my yard."
The couple faces felony theft charges.