This is an archived article and the information in the article may be outdated. Please look at the time stamp on the story to see when it was last updated.
DENVER — The man arrested for hitting a school bus with 39 children on board on Thursday as he was trying to escape from police in a stolen vehicle has an extensive criminal history, according to a background check.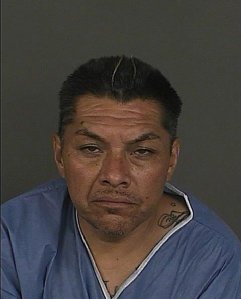 Louis Ortiz, 46, was arrested after the crash just before 4 p.m. at West 39th Avenue and Tejon Street in northwest Denver.
Ortiz is facing charges of reckless vehicular assault and vehicular eluding resulting in injury, police said Friday. He's being held in the downtown Denver jail without bail.
A criminal background check shows Ortiz has a long criminal history dating to 1989 when he was arrested on a weapons offense.
He's also been convicted for various crimes, including drug charges, trespassing, vehicular eluding and escape. Records with the Colorado Department of Corrections show Ortiz is on parole.
The Denver Police Department said a plainclothed officer saw the stolen green Jeep Grand Cherokee near Washington Street and East 45th Avenue and began following it on Thursday afternoon.
An officer tried to pull over Ortiz at West 38th Avenue and Lipan Street when he turned right on Shoshone Street and began to accelerate.
Ortiz then turned onto West 39th Avenue and sped up, going through a stop sign at North Tejon Street and colliding with the bus that was traveling southbound.
Five of the students on the bus from Denver Montessori Junior and Senior High School on the bus were taken to Denver Health Medical Center with nonlife-threatening injuries, while 13 others were treated for bumps and bruises at the scene.
Students' backpacks were returned to the school Friday after the principal said it was the No. 1 question students asked about.
"The kids are OK and that's the most important thing," said principal Katy Myers, who remained with students and families at the hospital until all were released Thursday night.
"I stayed there with them throughout the evening. They were in fairly good spirits. Of course, they were in a bit of shock from the accident."
At least two occupants in the Jeep were taken to Denver Health with serious injuries. One of them, a child, was in critical condition after the crash. Ortiz was also taken to Denver Health to be treated for unknown injuries.