This is an archived article and the information in the article may be outdated. Please look at the time stamp on the story to see when it was last updated.
GLENWOOD SPRINGS, Colo. — A man who is suspected of slitting the throats of his wife and 3-month-old son in Texas was arrested in Glenwood Springs on Wednesday night, the Glenwood Springs Police Department said.
Craig Alan Vandewege, 35, is accused of killing his wife, Shanna Vandewege, and infant son, Diederik,on Dec. 15 in Fort Worth, Texas.
Vandewege denied knowledge of the deaths and was not held after being questioned.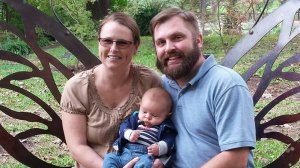 On Wednesday, police in Glenwood Springs were called on reports of a man acting suspiciously at a 7-Eleven store. The caller said Vandewege had used his phone to call "a few people to talk about a murder," according to the Fort Worth Police Department.
Glenwood police officers pulled over Vandewege for speeding and he said, "It's been a long week. My wife and kid were murdered in Texas," according to an arrest affidavit.
Police contacted Fort Worth police, who said Vandewege was still a person of interest in the case. Officers arrested him for speeding and no proof of insurance.
Authorities later found an AR-15 rifle and a .22-caliber revolver along with numerous boxes of ammunition, empty gas cans, camouflage clothing and several bottles of medication inside the vehicle. No knives were found.
Fort Worth police obtained an arrest warrant for Vandewege before he bonded out on the speeding and lack of insurance charges. He was then rearrested on the warrant, which carries a $1 million bond.
Vandewege is being held in the Garfield County jail and is due to make a court appearance on Friday afternoon.
The family had recently moved to Fort Worth from Colorado. Vandewege went to high school in Walsh, in southeastern Colorado, a family friend said.
A GoFundMe page has been set up to help with funeral costs and other expenses. Funeral services for Shanna and Diederik Vandewege are scheduled for Tuesday in Walsh.