This is an archived article and the information in the article may be outdated. Please look at the time stamp on the story to see when it was last updated.
DENVER –A 19-year-old man found guilty of using a screwdriver to stab to death another man in Brighton in 2012 was sentenced to life in prison Friday.
Hector Alvarez-Martinon was found guilty of first-degree murder Jan. 31, said Sue Lindsay of the 17th Judicial District Attorney's Office.
The victim in the case, Francisco Moran was in the passenger seat of Cadillac Escalade driven by Alex Hernandez. Alvarez-Martinon was in the back seat and "pulled out a screwdriver and began stabbing Moran, Lindsay said.
The driver pulled over at the East Gate Mobile Home Park in Brighton and Moran was able to get out and tried to run away.
Police said Moran was yelling for help as he was chased through the mobile home park by both Alvarez-Martinoon and Hernandez. Neighbors heard Moran calling for help and called 911.
Officers arrived at the scene 90 seconds later to find Moran walking behind a mobile home shirtless and covered in blood.
When they asked who attacked him, he uttered "Hector Alvarez," she Lindsay said.
Moran died on the way to Denver Health Medical Center.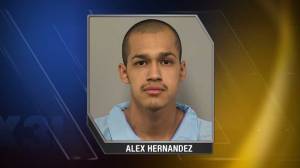 An autopsy said Moran had been stabbed 64 times in the head, neck and arm.
Adams County District Judge Mark Warner called Moran's murder an act of "unparalleled violence" and "stunning brutality."