This is an archived article and the information in the article may be outdated. Please look at the time stamp on the story to see when it was last updated.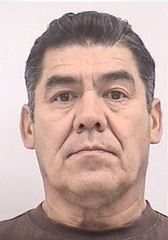 COLORADO SPRINGS, Colo. — A Los Angeles man's 13-year run from the law ended Wednesday, when he was caught publicly urinating on a busy street in southeast Colorado Springs.
According to the Colorado Springs Gazette, officers received a call reporting the potential misdemeanor in the 3200 block of South Academy Boulevard. When they arrived, they found a suspect with a warrant out for his arrest accusing him of a serious felony.
That man is Miguel Sanchez, 59, who was identified via fingerprinting by Colorado Springs Police after he initially provided a fake ID to the officers investigating the public urination report. Sanchez is wanted in Los Angeles for attempted murder and skipped town on $2 million bail, according to police.
"They (Los Angeles) are willing to extradite on such on a huge bond," Colorado Springs Police spokesperson Dan Lofgren told the Gazette. "They must have a good case on him."
At the time of his arrest, it was still unknown if Sanchez was living in Colorado Springs or just passing through,  Lofgren told the newspaper. It was clear, however, that another group of criminals was plotting to victimize Sanchez shortly after his arrest.
After booking Sanchez, police returned to the scene of the public urination incident to check out the car they had found the 59-year-old sitting it. When they arrived on scene for a second time, they found two individuals in the process of breaking into that vehicle.
Police said one man, later identified as Timothy Stubblefield, 28, was attempting to steal the stereo out of the car, while another, Eric Satterfield, 45, was attempting to break the steering column, so as to drive away with the vehicle.
Both men were taken into custody and apparently have no connection to Sanchez.
To add one final twist to the story, police said the vehicle had been loaned to Sanchez by a man he met at a Colorado Springs church. Lofgren told the Gazette the man made the decision to lend the vehicle to Sanchez after a sermon urging the congregation to "reach out and help others."