This is an archived article and the information in the article may be outdated. Please look at the time stamp on the story to see when it was last updated.
ADAMS COUNTY, Colo. — A judge sentenced a man to 20 years in prison Thursday for a DUI crash that killed two people in March.
Joshua Lee Calhoun, 29, caused a violent 3-vehicle crash at East 22nd Avenue and Tower Road in Aurora after drinking a dozen rum and cokes before getting behind the wheel of his Yukon SUV.
He plowed into the back of 44-year-old Stephanie Windsor's Ford Escort. Calhoun's SUV then hit a pickup driven by 58-year-old Michael Ingman. Windsor and Ingman died.
Police said Windsor was following her fiance home when the crash happened. Windsor and her fiance had encountered Calhoun at the Frontier Bar in Aurora. Ingman was on his way to work at the King Soopers Distribution Center which was just a few blocks from the crash site.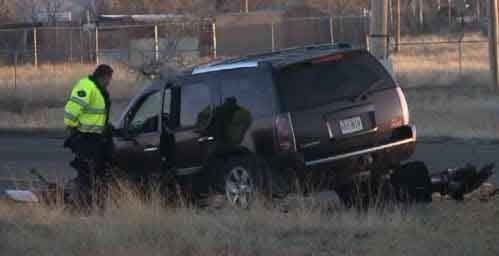 Calhoun pleaded guilty as charged to two counts of vehicular homicide DUI (F3) and two counts of vehicular homicide reckless driving (F4).
Adams County District Judge Craig Welling sentenced Calhoun to two 10-year prison terms on the vehicular homicide DUI charges to be served consecutively for a total of 20 years in prison. He imposed six-year prison terms on the vehicular homicide reckless driving charges to be served concurrently with the 20-year prison term.
A press release said Windsor's family told the judge that their lives had been devastated by her death. Meanwhile, Ingman had been living with his 90-year-old father, a World War II veteran, and was his primary caregiver his family said.
"This is as aggravated case of vehicular homicide as I have ever seen," Welling said. "The victims died a violent and horrific death." He said Calhoun had consumed 12 rum and cokes that evening before taking the wheel with a blood alcohol content more than twice the legal limit. Calhoun reached a top speed of 104 mph and was traveling at 88 mph at the time he plowed into Windsor's car. The posted speed limit was 40 mph. "The catastrophic nature of the accident scene cannot be overstated," the judge said. "It spread over 500 feet and took two lives."
When police arrived at the scene, Calhoun claimed to be a passenger in the Yukon and said the driver had left the scene.