This is an archived article and the information in the article may be outdated. Please look at the time stamp on the story to see when it was last updated.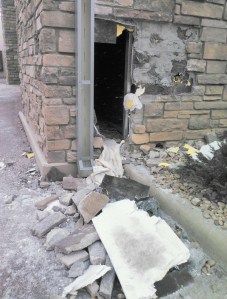 LONGMONT, Colo. — Police rescued a man from inside a wall of a Marshalls department store on Tuesday morning, and they believe he had been trapped for two to three days.
The Longmont Police Department said employees heard the man inside the wall and called police. Police and fire crews then pulled the man, believed to be in his 40s, from the wall.
The Longmont Times-Call identified the man as Paul Felyk, 35, and reported he was taken to Longmont United Hospital for treatment.
Felyk is thought to be a transient.
The newspaper reported he entered the building through a vent on the roof and fell down about 20 feet inside the walls of the building and became trapped.
Police are investigating the case as criminal trespass, but Felyk has not been arrested.
[protected-iframe id="c5ff8df53dd02d6c4d26f9c5e683fe0e-29290497-41735740″ info="//www.tout.com/embed/touts/ywtm8o" width="100%" height="315″ frameborder="0″]
Longmont firefighters hammered a hole into the side of the Marshalls store. (Photo: Lewis Geyer/Times-Call)

Longmont firefighters use a saw to cut a hold into the side of the store. (Photo: Lewis Geyer/Times-Call)

After opening a hole, the man was able to crawl out. (Photo: Lewis Geyer/Times-Call)

Firefighters said the man was taken to a local hospital for treatment, but appeared to be okay. (Photo: Lewis Geyer/Times-Call)

This is where the man was for as long as three days. (Photo: Lewis Geyer/Times-Call)

Police said the man fell about 20 feet. (Photo: Lewis Geyer/Times-Call)

(Photo: Lewis Geyer/Times-Call)