This is an archived article and the information in the article may be outdated. Please look at the time stamp on the story to see when it was last updated.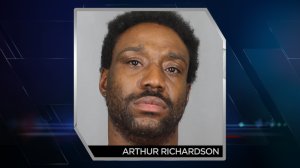 ENGLEWOOD, Colo. — The Englewood Police Department charged Arthur Richardson, 34, with first-degree murder after a stabbing that killed Trevin Eno near a Walgreens late Tuesday night.
Richardson's arrest comes on the day Eno would have celebrated his 40th birthday.
Friends and co-workers said they have no idea why anyone would want to hurt Eno, a real estate broker.
"Shock, denial, confused," co-worker Jessica Brejcha said. "Everyone has no clue why."
"He's the kind of guy that would have handed them everything he had," said Jamie Carpenter, a friend of Eno's for more than 20 years. "I can't imagine why anyone would do this."
The Arapahoe County Coroner's Office said Eno was stabbed in the chest after an altercation in the Walgreens parking lot at 123 E. Belleview Ave.
Police identified two persons of interest in the investigation and released surveillance photos on Wednesday.
Two men were seen entering the store 25 minutes after the alleged attack. On Thursday, both men were found and arrested.
Richardson was charged with first-degree murder. The other man was released pending charges. His identity was not released as the investigation is ongoing.
As the search for the alleged killer comes to a close, friends and co-workers remembered Eno.
"He was the most outgoing, friendly, genuine person I have ever met," Brejcha said. "Always had a smile on his face, never a dull moment in the office. He could take a bad day and put a smile on your face."